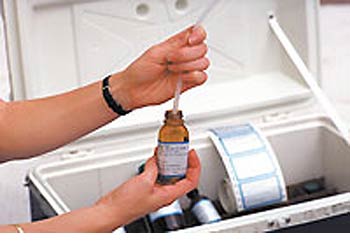 At Solinst, we place great importance on our ability to ensure a steady improvement in the product line and to continually develop up-to-date instrumentation for hydrogeological and hydrological applications. Therefore research and development is a continual process. As part of this commitment, Solinst has developed strong links with the Institute for Groundwater Research, at the University of Waterloo and other universities. This affords an excellent opportunity to combine the latest research with the technical know how and field experience of Solinst engineers, professionals and technicians.
Solinst premises are 35,000 sq. ft. on 3.6 acres of land and includes test wells of up to 8" in diameter by 335' (100 m) deep for product developement and demonstrations. One test well is located inside our Training Room, for convenience.
The Solinst manufacturing facilities include CAD/CAM design equipment, 3 state of the art CNC machines, plus conventional lathes and milling machines. Only non contaminating coolants are used to cut parts, and all machined parts are cleaned in a 3 stage cleaning and rinsing process using deionised water. A careful quality control program for all manufacturing and assembly processes completes the environment in which Solinst instrumentation is manufactured.