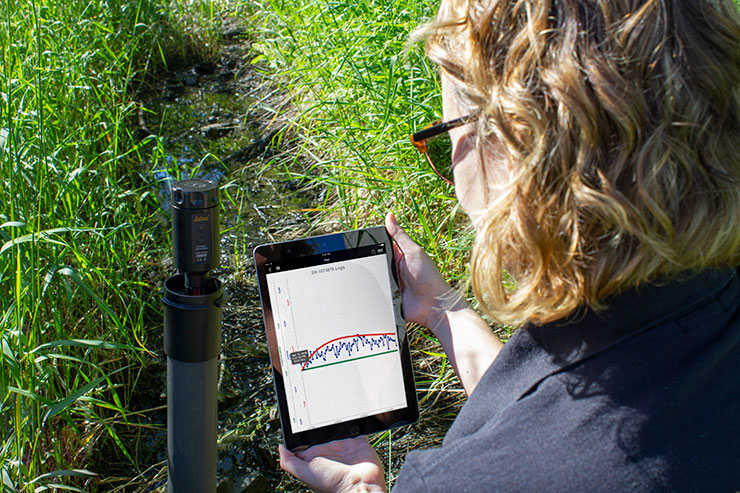 Current Job Opening(s)
---
Hydrogeological Instrumentation Technical Sales Support
Position Title: Technical Sales Engineer
Reports to: Sales Manager
Location: Georgetown, Ontario

Solinst Canada Ltd, is a leading manufacturer of groundwater and surface water monitoring instrumentation, supplying high quality instrumentation directly to our customers and through our extensive global distribution channels.
We are looking to expand our sales team with an additional Technical Sales Engineer. Based in our office at Georgetown, Ontario, Canada, you will bring experience in supporting technical instrumentation, client relationship development and excellent customer service.
You will have an intense desire to provide top level service, assisting clients to obtain the most suitable instrumentation for their monitoring applications, with your understanding of why, where and how groundwater and surface water instruments are used.
Key duties and responsibilities include:
Inside technical support through extensive telephone and email customer contact on our complete product range.
Following up leads and logging activities in our CRM system.
Producing accurate quotations and filling orders.
Conducting presentations and webinars.
New product testing and input towards producing technical literature.
Training and support for our worldwide distributors.
Representing Solinst at trade shows, sales visits, and training of clients.
Some international travel required.
Ideal candidate assets and experience:
Minimum 5 years of Sales experience supporting technical products.
A University degree in Environmental Science, Engineering, or Hydrogeology with 3+ years field experience desirable.
Knowledge of Windows OS set-up. Working with our Levelogger and Telemetry product lines, software troubleshooting and handling questions on data will make up part of your enhanced customer support role.
Detail-orientated to support company policy for use of CRM and other databases involved with Sales activities.
A team player, with aptitude to multitask, through solid organizational skills while often working independently. Able to embrace self-directed learning.
Salary will be commensurate with capabilities and experience, plus a comprehensive benefits plan. Solinst is an equal opportunity employer. If you require accommodation for a disability in the application or interview process, please contact us.
To apply email cover letter and resume to [email protected].
---
Mechanical Engineering Design Technologist
Department Team: Engineering
Reports to: Director of Engineering
Location: Georgetown, Ontario

Solinst Canada Ltd., a manufacturer and supplier of high-quality groundwater monitoring instrumentation. We are seeking to hire a full-time Mechanical Engineering Design Technologist for support in design/development of new products, create/edit drawings, assembly instructions as well as designing jigs/fixtures.
Job Duties and Responsibilities:
3D modeling using SolidWorks: conceptual design, prototyping, production optimizations, shop drawings, revision maintenance, etc.
Prepare detailed model concepts from rough design ideas for development of new products
Assist in the development of engineering models, experimental prototypes, test set ups, working from sketches, rough outlines or verbal instructions and making required engineering calculations
Design jigs/fixtures to aid assembly process
3D print prototype parts, jigs/fixtures on FDM and/or Resin Printer
Create, revise, and organize production drawings and documentation to support manufacturing
BOM administration and maintenance
Create / Edit Assembly instructions
Qualifications/Experience/Education:
3-5 years design experience in mechanical/manufacturing field
Proficient in SolidWorks (or similar) design software
Post–secondary education in engineering discipline, mechanical is preferred (degree or diploma).
Strong mechanical problem-solving skills
Experience with 3D printing and slicing software such as Ultimaker Cura, 3D Sprint, etc.
Understanding of basic coding (VB, C++, etc.) and electronics is an asset
Excellent written and verbal communication skills
Attention to detail and regard for high engineering and quality standards
Experience with MasterCAM is preferred
Technical writing skills an asset
Experience using finite element analysis or similar engineering design software
Strong organizational skills
Ability to manage multiple
projects simultaneously
Salary will be commensurate with capabilities and experience, plus a comprehensive benefits plan. Solinst is an equal opportunity employer.
Job Types: Full-time, Permanent
To apply, email cover letter and resume to [email protected]