The 3001 Levelogger® 5 is a highly accurate water level and temperature datalogger. It is ideal for recording water levels in monitoring and production wells, boreholes, lakes, rivers, tanks, etc.
It has an accuracy of 0.05% FS and memory for 150,000 sets of readings. The datalogger, 10-year battery, Hastelloy® pressure sensor and temperature sensor are factory-sealed in a 22 mm x 160 mm (7/8" x 6.3") housing with a corrosion-resistant coating baked on using polymerization technology. The sealed design makes maintenance and cleaning a snap, and offers protection from power surges caused by pumps or lightning.
User-defined schedule, linear, and event-based sampling are options. The Barologger 5 and the data wizard offer the most accurate and easy method to account for barometric pressure.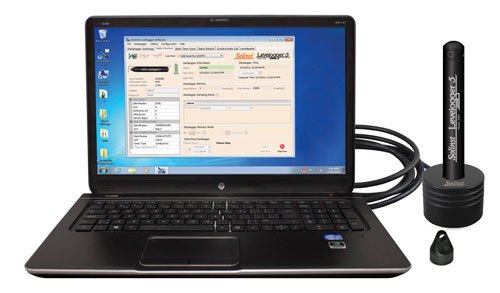 Programming data collection schedules, downloading and viewing data, and data compensation is quick and easy using intuitive Levelogger Software and high speed Desktop Reader 5
The Levelogger can be installed with a direct read cable for instant communications, or suspended on inexpensive wireline/cord from a lockable well cap. Leveloggers can also connect to an SDI-12 network using the Solinst SDI-12 Interface Cable. A Biofoul Screen provides additional protection.
®Levelogger is a registered trademark of Solinst Canada Ltd.