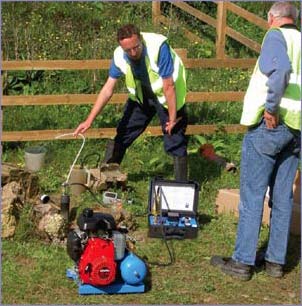 Cory Environmental, a leading recycling and waste management company, operates in over 30 locations around the UK developing and maintaining recycling and landfill facilities. Over the years, they have purchased and tested a number of groundwater sampling instruments for use in monitoring programs at their landfill sites.
In the past, portable submersible pumps and specialized air drive pumps were used without much success. These pumps were costly to maintain and purchase, and difficult to operate. Unsatisfied, the search continued for an alternative. Their search criteria included:
Adjustable pumping to 1 L/min +
Ability to cope with silty water
Economical and easy to maintain
Following installation, sampling possible by one technician
In 2005, Cory selected one landfill site as a test bed for dedicated pumps. After a series of field trials, the Solinst Double Valve Pump (DVP) was chosen as the preferred option, as it met all of their criteria and outperformed the other competitor air driven systems. Since then, Cory has purchased and installed 60 Solinst dedicated DVP's, at a number of sites with varying hydrogeological conditions. They have been satisfied with both dedicated PVC and portable Stainless Steel versions purchased in 2006. Malcolm Cox, of Cory, says: "The Double Valve Pumps have proven to be the best solution for obtaining high quality purged samples, whilst at the same time reducing the amount of time required to obtain each sample".

Advantages of the Solinst DVP noted by Cory Environmental included:
Easy installation in 50 mm (2") boreholes
Successful purging in deep applications
Handled silt in wells without difficulty
Utilized to remove silt from boreholes
Performed in wells with low water levels
Technicians quick to learn operation
Low costs allowed pump dedication
Custom alterations to design made almost every sampling location manageable by one field technician
No significant loss in performance using air supply source 500 m (1,640 ft) away
At Solinst, we are very proud that Cory Environmental, with their expertise and experience in groundwater monitoring, selected the Solinst Double Valve Pump as their preferred sampling option. In the series of challenging field trials, the Solinst DVP proved itself.
Acknowledgements: Solinst would like to thank Malcolm Cox of Cory Environmental and WaTerra UK, for providing details on their applications and equipment performance for this newsletter