Kootenay Watershed Science (KWS) is a community-driven project that was spurred into action by concern over climate change impacts and the lack of watershed monitoring in the Kootenay region.
Along with its parent organization, Living Lakes Canada, a water stewardship NGO whose work was founded in the Columbia Basin, this project aims to further understand how the warming atmosphere will influence their region's small and medium-sized watersheds.
In a previous blog post, we discussed KWS's overall goal of collecting and sharing important data on which to base future decisions.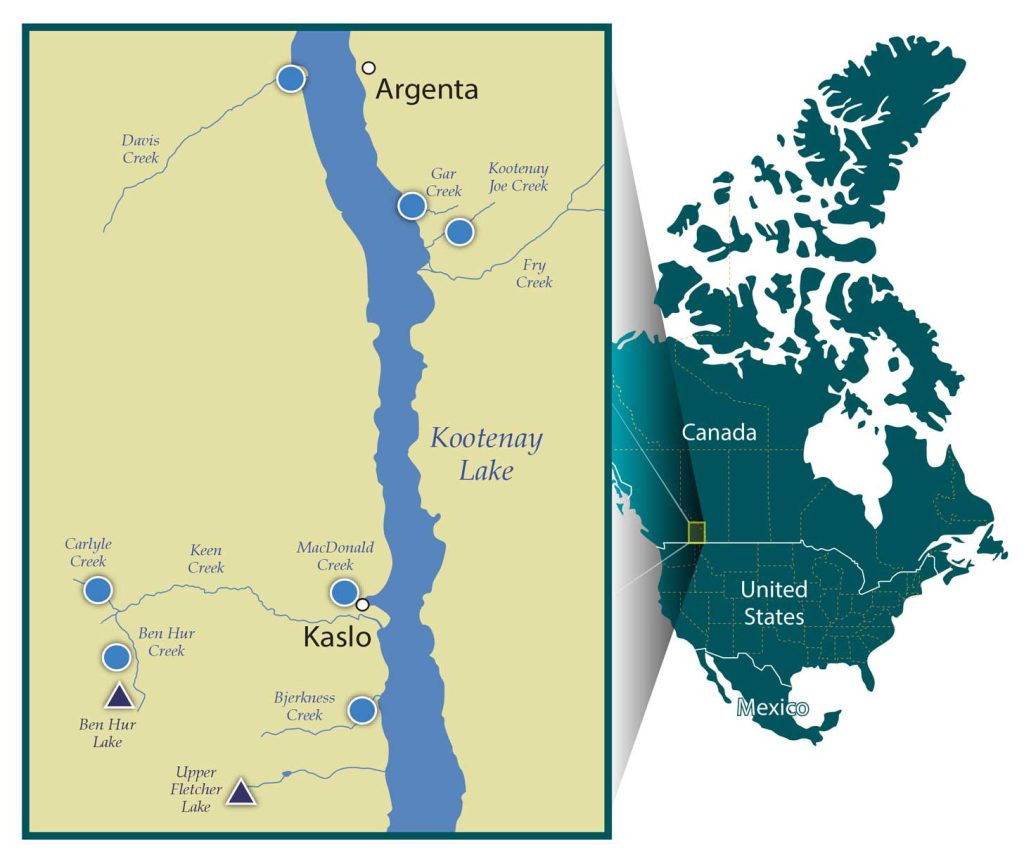 To achieve these goals, KWS has established several hydrometric stations and high-elevation snow courses, where they collect data on snowpack, precipitation, temperature, water quantity, and more.
You can read the blog post here, which includes a discussion on how Solinst Levelogger water level dataloggers are used in their projects.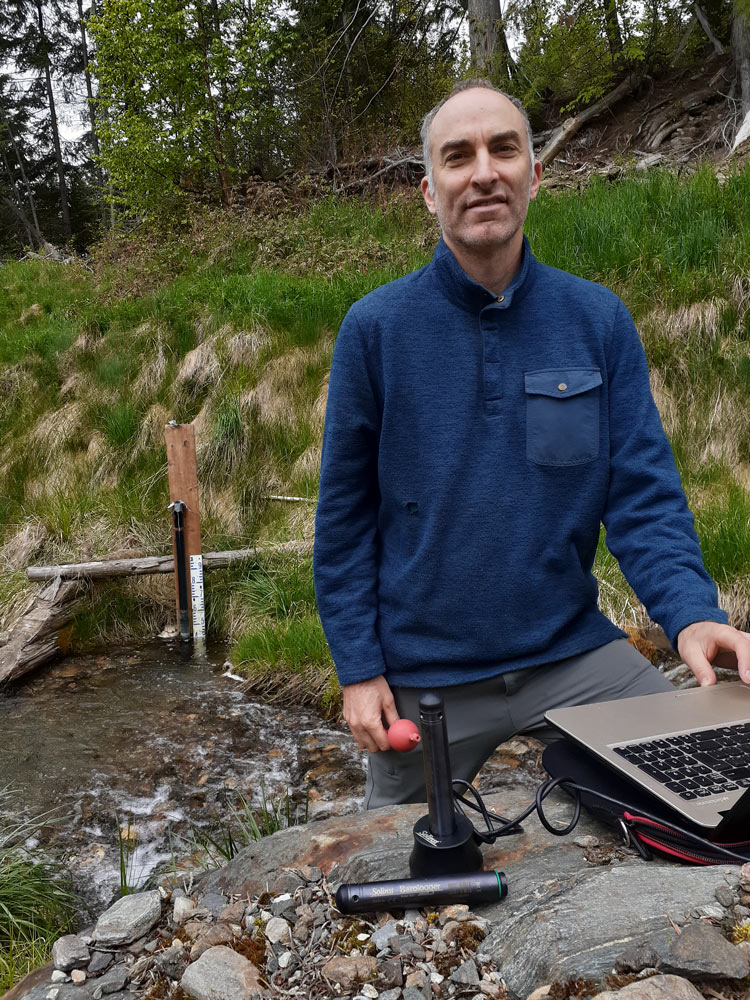 We recently received an update on their efforts from Paul Saso, Hydrologist with Kootenay Watershed Science:
"2022 was a very successful year for us despite challenges faced by forest fires and road closures. We completed a full year of monitoring on seven creeks (discharge and water temperature), two high-elevation snow monitoring sites, three climate monitoring sites (precipitation and temperature), as well as expanding our program to assess the health and function of a second alpine lake."
Paul notes that the quality-controlled data is shared publicly via multiple outlets including the Columbia Basin Water Hub. It provides decision-makers with information to guide conservation efforts, land use planning, future developments, wildfire suppression, and water budgeting – as well as preparedness for low water events, forest fires, and flooding that are being exacerbated by climate change.
Alpine Lake Monitoring
Last year, KWS expanded their program by adding a monitoring site at Upper Fletcher Lake near Kaslo BC.
Alpine lake monitoring started in 2021 with a pilot project at Ben Hur Lake near Kaslo BC. The site was inaccessible in the summer of 2022 due to forest fires and road closures, but data from 2021 were collected and provided some good information.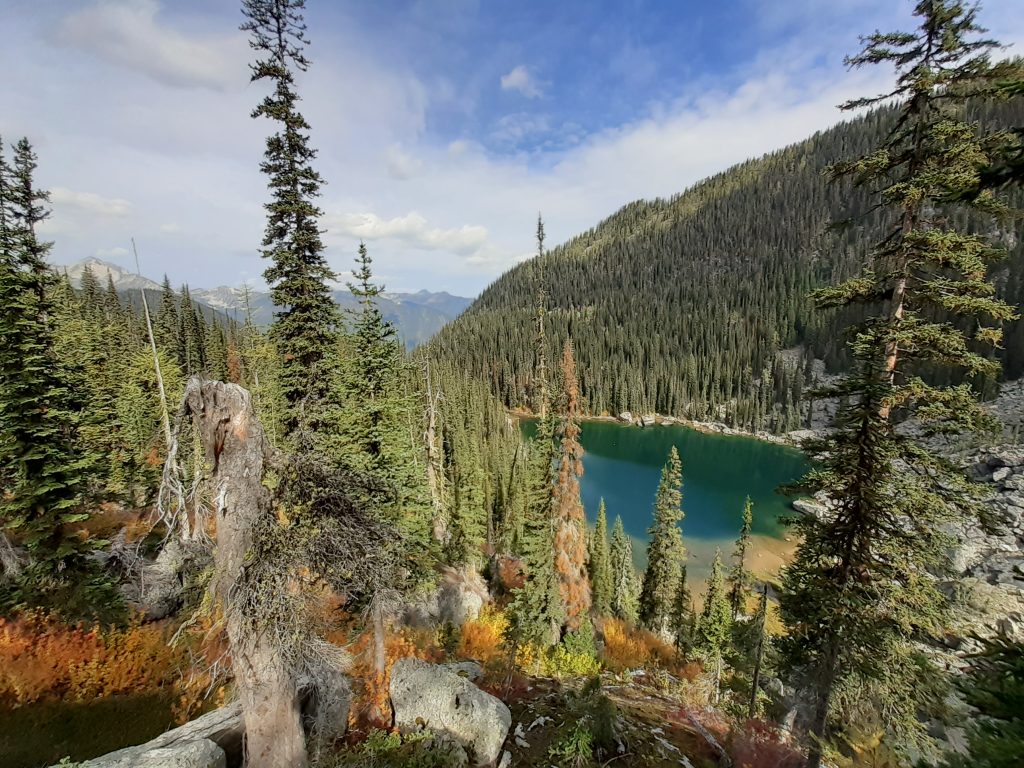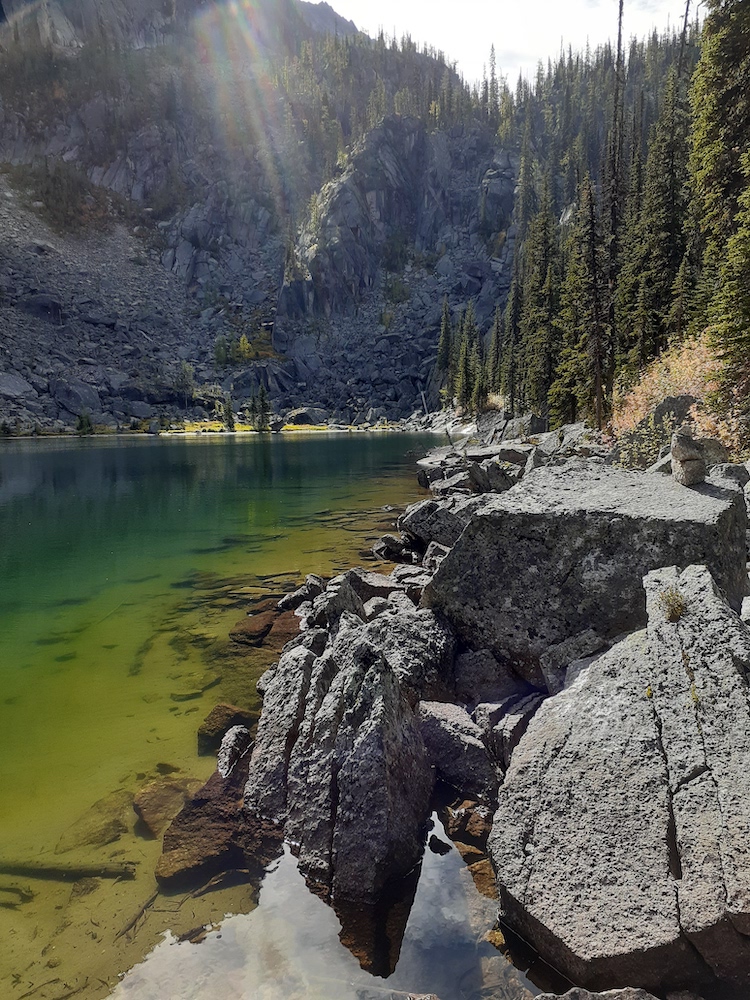 Baseline data was collected on water level, lake transparency, temperature, and precipitation – providing an essential understanding of the behaviour of the lake throughout the summer.
Through the data, KWS was able to determine that the lake has high transparency that changes throughout the summer months, and it is a snowmelt- driven system. They also determined that lake temperature is more affected by air temperature rather than precipitation.
This baseline information will provide insight into how alpine lakes could change over time as the climate changes and will help to guide mitigation efforts.
KWS is part of a larger Living Lakes Canada monitoring project that is tracking climate impacts on water in the Columbia Basin to inform watershed management decisions. You can find more information here: https://livinglakescanada.ca/project/columbia-basin-water-monitoring-framework/.
Another interesting side note: Paul Saso through KWS collaborated with Janet Fischer and Mark Olson, professors in the Biology Department at Franklin & Marshall College, whose work we feature in another blog post. They helped advise on the set of up the project and wrote up the initial report! You can read more about their research which also focuses on gaining an understanding of the effects of climate change on alpine lakes: Water Level Data Helps To Understand The Effects Of Climate Change On Alpine Lakes.
Lake Level Data Collection
As mentioned previously, last year, KWS expanded their alpine lake monitoring efforts by adding a monitoring site at Upper Fletcher Lake.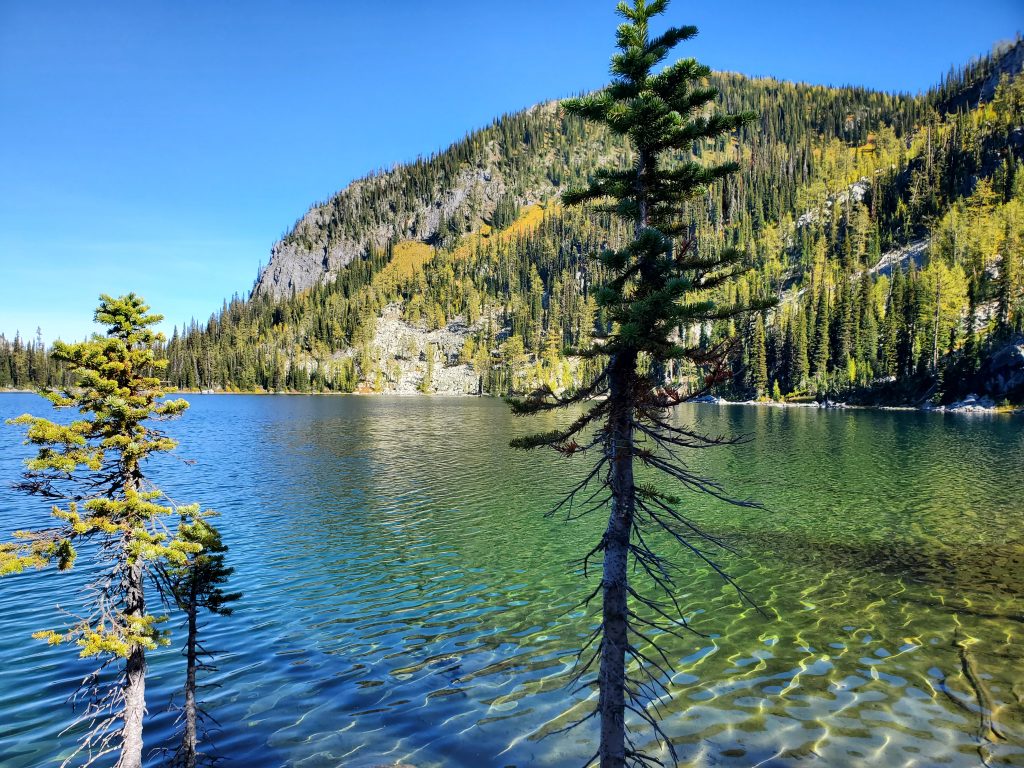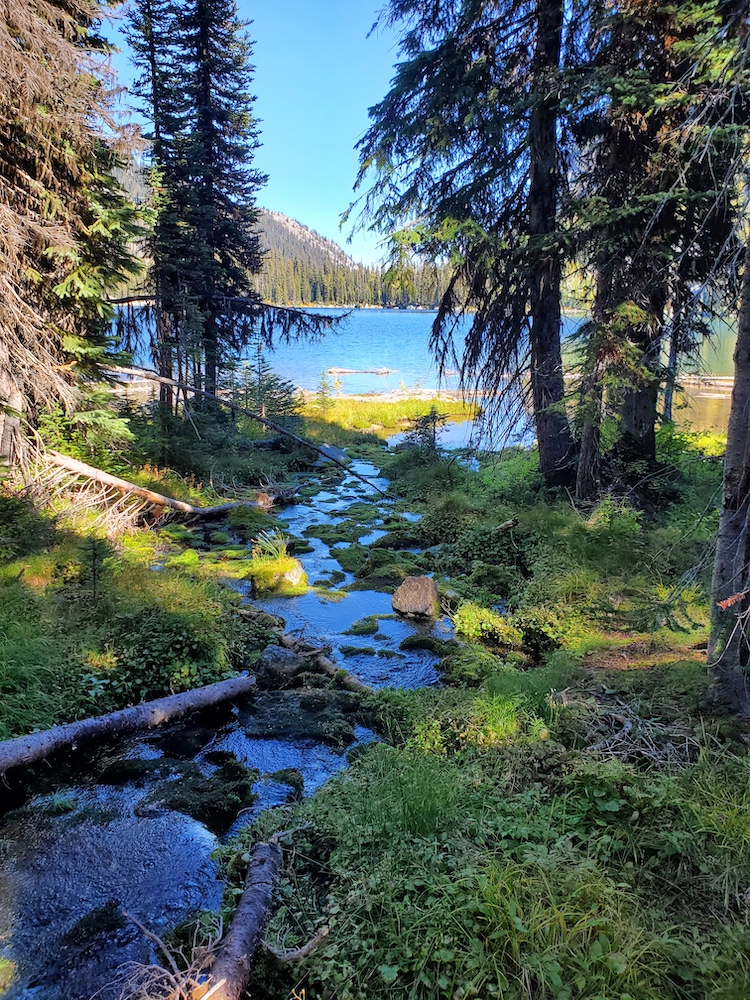 Solinst Leveloggers have been installed in each of the lakes to measure the changes in water levels over time. They are both small lakes, so just one Levelogger (and one Barologger for barometric compensation of the water level data) are installed at each.
The Leveloggers are installed in protective tubes and then weighted down on the bottom of the lake near the shore. A bolt is drilled into a large rock above the Levelogger, which is used to measure absolute water level. The Barologger is suspended in a shady tree in a nearby forest. Paul says, "this is quite a simple and easy way to get the loggers in and it also makes them completely unnoticeable, which is good for safety and keeps the lake looking pristine."
Downstream from the Ben Hur Lake site on Ben Hur Creek, KWS has operated a stream discharge measuring station since 2013. "At this remote, high elevation station, we need to be completely confident in our loggers. The Solinst loggers have performed flawlessly despite the challenges of this environment," says Paul. By comparing the data from the two sites over the coming years, they will be able to see how the lake level correlates with the discharge rates in the creek.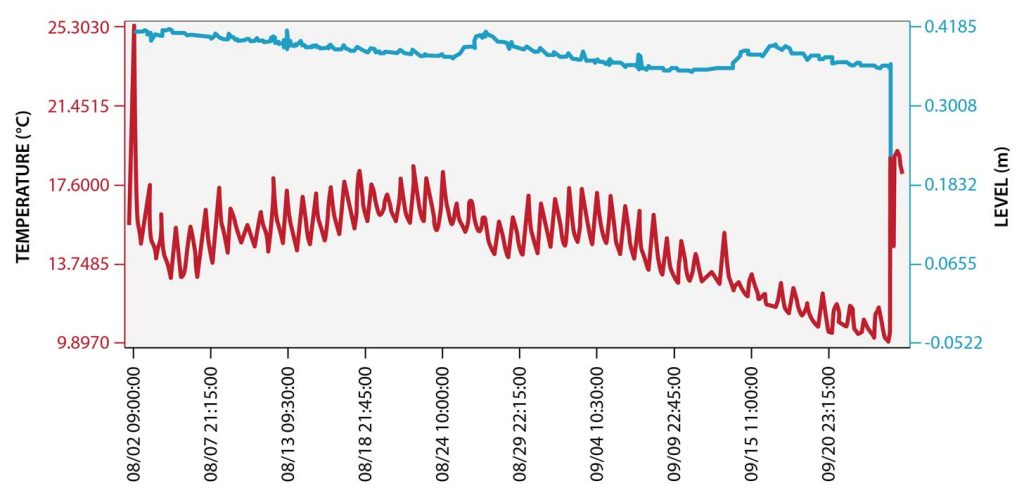 It is suspected that the alpine lakes play a role in moderating the flow of small creeks in the region. The creeks are important for water resource users in the community, as well as the freshwater ecosystems.
Modelling suggests that as climate change continues to affect the region, there will be less flow in the creeks over the summer months. The alpine lake-fed systems may be able to help by moderating the flow over the seasons.
Building a Dataset and Sharing Knowledge
Overall, the monitoring program will help build an understanding of alpine lake health and function in the area. The alpine lakes in British Columbia, and Canada overall, have not been studied thoroughly, so creating a dataset that characterizes these types of lakes will significantly build upon our understanding of these important ecosystems.
As the datasets are shared, KWS has aligned their program with the studies being done by the BC government, so the data is easily compared.
Ultimately, the data collected by KWS helps evaluate how the watersheds in the area respond to different hydrological flows – especially in times of high precipitation and low water supply. The data will help predict the risk, frequency and outcome of more catastrophic events brought on by climate change. Making the data publicly available will help allow for appropriate watershed management moving forward.
Our climate is changing, and it is anticipated that there will be significant change in stream flow in the near future. The need for adequate data to better plan, prepare and respond to changing climate impacts is recognized in communities and across all sectors. The long-term streamflow, climate, snow, and alpine lake health datasets collected by KWS and powered by Solinst equipment will provide the data needed to plan for climate change mitigation efforts in the Kootenay region
Solinst thanks Paul Saso, Hydrologist with Kootenay Watershed Science and Nicole Trigg, Communications Director with Living Lakes Canada, for providing the details of this project.