All RRL Stations use the same hardware, and are programmed using a software wizard as a Home Station, Relay Station, or Remote Station. Therefore, stations can be programmed and are interchangeable as required.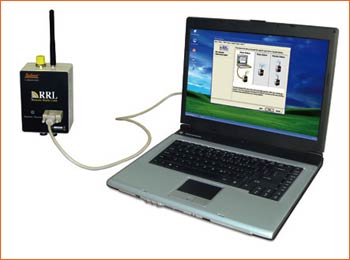 RRL Station connected to PC using RS232 cable
Connect the RRL Station to be programmed as the Home Station to the PC with an RS232 cable, and start the software.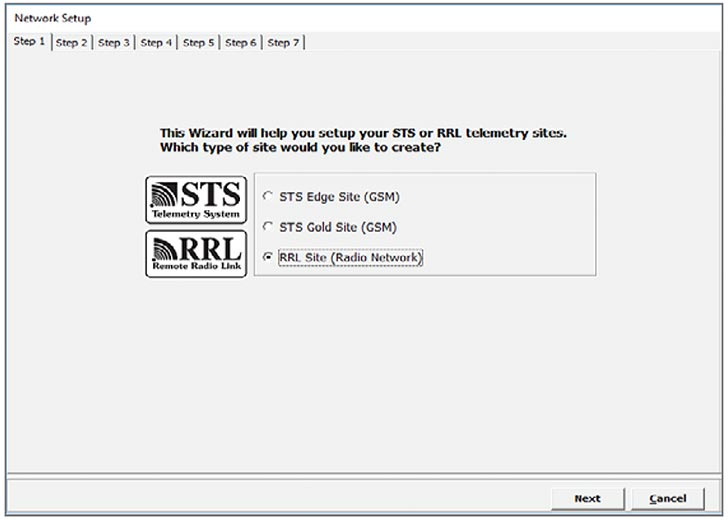 Software Wizard Step 1 - Network Selection
Select an RRL Site, and click Next to start the software wizard.
Enter the RRL network settings, including number of Remote and Relay Stations, Network Start Time, Radio Frequency and Power settings, Sample and Report Rates, and Report Duration.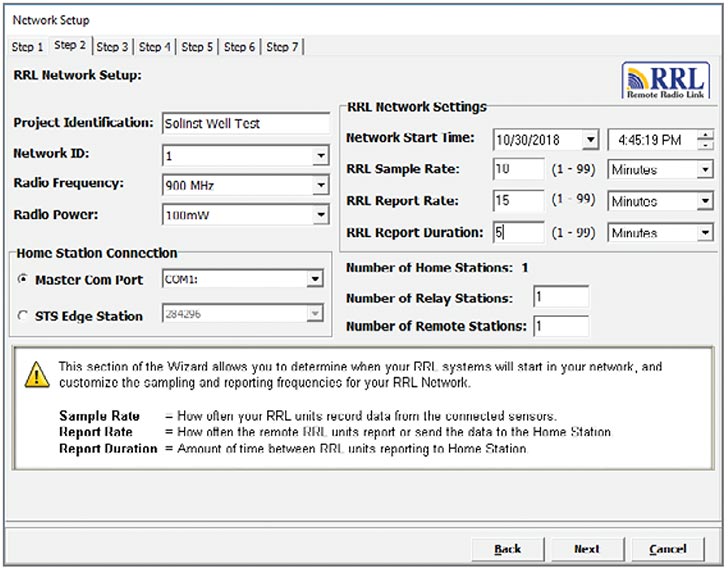 Software Wizard Step 2 - RRL Network Setup Screen
Sample Rate is the frequency the RRL Remote Stations collect real-time readings from each of the attached Leveloggers. The Sample Rate can be set from 10 seconds to 99 hours.
Report Rate is the rate at which stored data is sent from a Remote Station to the Home Station. The Report Rate can be set from 1 minute to 99 hours.
Report Duration is the maximum span of time that a Remote Station will be in contact with the Home Station during the transfer of data. The minimum Report Duration is 1 minute.
Important
A higher Radio Power setting will increase communication distance between 900 MHz radios, but it will use up the battery power more quickly.
(See "Connect Power Supply").

Remember
As you are prompted through the software wizard, remember to connect each RRL Station to the PC before entering the settings.
The software wizard will prompt you through programming each of your RRL Stations. You will enter the number of Leveloggers connected to each Station. You will also be given the option to program the Leveloggers to record internally on their own schedule.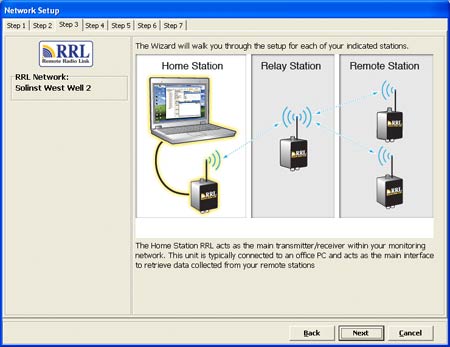 Software Wizard Step 3 - This is a transition screen shown before programming each Station. It will show what Stations have been programmed, and those remaining.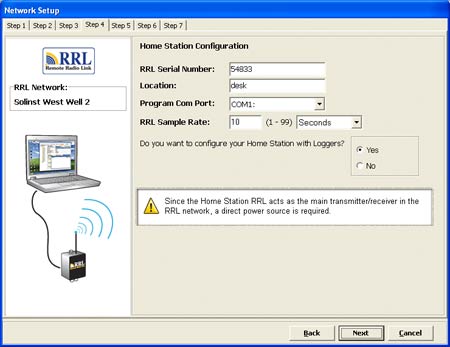 Software Wizard Step 4 - Program Station Settings:
Enter the RRL Station serial number and location, and set a sampling rate (if different from one set in Step 2).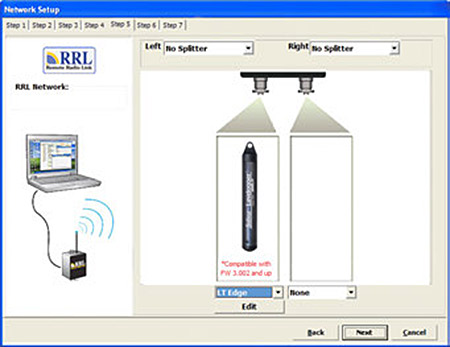 Software Wizard Step 5 - Enter Levelogger Settings:
Select the connected Leveloggers from the drop-down menu, and select Edit to enter data collection schedules.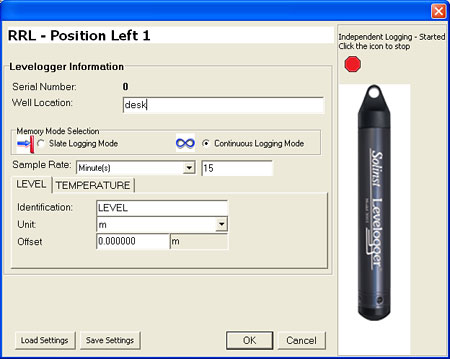 Programming Levelogger Independent Logging:
Set an optional sampling rate to record readings in the Leveloggers internal memory, independent of RRL Network operation.
After applying settings to each Station, there will be the option to start your RRL Station with the Network Start Time entered in Step 2 of the Wizard, or use the Remote Utility (See "Start RRL Stations"). After applying all settings, Step 7 of the wizard will provide a network summary.
The RRL Network will be added to the STS/RRL Administrator Window, where you can view all the site information and edit as required.