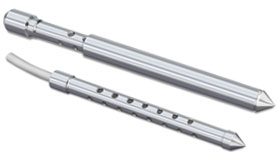 Ideal for initial site investigations
High quality stainless steel piezometer tip
Completes a simple, very cost effective well
Drives 20 to 25 ft in suitable soils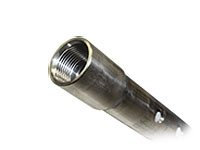 615N Simple Well Point
Water Level Monitoring and Groundwater Sampling
---
615 Barbed Fitting; 1/2" ID Tubing to Surface
Narrow dia. water level monitoring
High groundwater sample integrity
---
615C Compression Fitting; 1/4" OD Tubing to Surface
Vapor / soil gas monitoring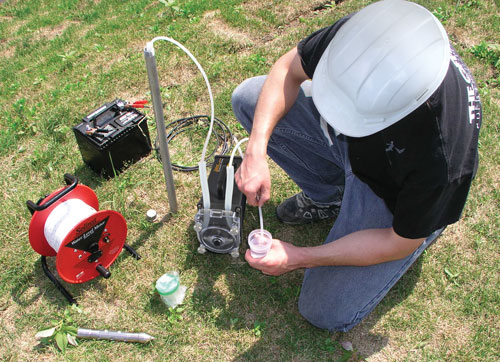 The Model 615 Drive-Point Piezometers use a high quality stainless steel piezometer tip, 3/4" NPT pipe for drive extensions and LDPE or PTFE sample tubing, if desired. Combine these with an inexpensive Slide Hammer and you have a complete system.
Photo above shows the installation of a 615 Drive-Point Piezometer being used for water level measurement with a 101 Water Level Meter and groundwater sampling with a 410 Peristaltic Pump.
The 410 Peristaltic Pump is ideal for sampling groundwater and vapor in shallow piezometer applications. Connect a 12V Battery Holder to create a very portable assembly.
Learn more on getting high-quality groundwater samples with your Drive-Point Piezometer and Peristaltic Pump in our technical bulletin.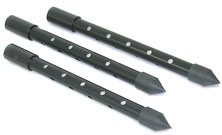 Reliable
Low cost
Excellent for water level, metals sampling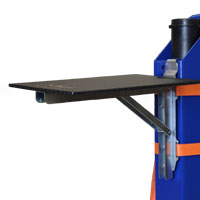 Consider making your life easier in the field by ordering one of our convenient Field Tables. We have two models available, Well-mount and Stand-alone, to keep your equipment organized and provide a clean, sturdy surface to hold your field tools.
Well-mount Field Table - 115209
Stand-alone Field Table - 115312