The clear pump head design makes it easy to inspect, so you know when the tubing needs to be changed. The 410 Pump head design makes it easy to change out the tubing. Also, a 10amp breaker switch is conveniently located on the side of the pump, so no fuses to replace in the field. The reversible flow dial allows for complete sampling flexibility to achieve 40ml / min to 3.2 L / min sampling capacity in either direction.
12V Battery Holder
For added convenience, connect a 12V Battery Holder so a user-supplied battery becomes an integral part of the assembly. It is ergonomically designed requiring no tools to attach. Ideal for short duration applications requiring more portability. Fits on all versions of the Model 410 Peristaltic Pump.
Convenient and Easy to Use
Compact, lightweight
Rugged design
One simple control
Reversable flow
Gives flow rates from 40 ml/min to 3.2 L/min
Ideal for groundwater and vapor sampling
The Model 410 Peristaltic Pump is ideally suited for groundwater and vapor sampling from shallow wells or surface water. Compact, lightweight and water resistant, it has excellent field durability. Robust metal case makes it easy to maintain and repair. One easy-access control enables reversible flow and various speeds, allowing high or low-flow sampling. Simply connect to a 12 Volt power source to operate.
Ideal for dedication
Excellent in silty/sandy environments
Easily operated by hand
Ideal for low flow VOC sampling
Durable PTFE bladder
Optional disposable LDPE bladders
The Solinst 12V Submersible Pump provides an efficient means of purging and obtaining groundwater samples from 2" OD monitoring wells. The compact pump can sample from depths of 36.5 m (120 ft) below ground surface, and is easy to adjust the flow rates up to 13.5 L/min (3.6 US gpm) in shallower applications.

The 800M Mini Packer is 1 ft in length and is designed to fit in nominal 2" OD monitoring wells to temporarily isolate discrete zones for groundwater monitoring and sampling applications – available as a single and straddle packer setup.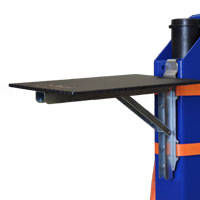 Consider making your life easier in the field by ordering one of our convenient Field Tables. We have two models available, Well-mount and Stand-alone, to keep your equipment organized and provide a clean, sturdy surface to hold your field tools.
Well-mount Field Table - 115209
Stand-alone Field Table - 115312