Pump Controllers
The Model 464 Electronic Pump Control Unit is available in 125 psi or 250 psi versions, and uses 4 AA alkaline batteries that last up to 100 hours of normal use. These Controllers can also be operated manually if your batteries run out in the field, using only a compressed gas source. It has automatic preset sample modes from low through high flow settings. In addition, up to 99 user-created flow rates can be saved in FRAM memory. The Controller allows faster purge rates and precise low flow control to ensure a representative sample at 100 ml/min or less when sampling for VOCs.
These convenient Controllers are rugged, dependable and suitable for all environments. Quick-connect fittings allow instant attachment to dedicated well caps, portable reel units and to an air compressor or compressed gas source.
12V Oil-Less Air Compressor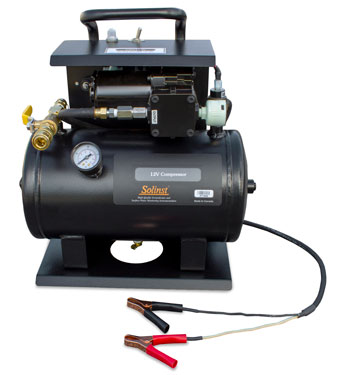 12 Volt Compressor
The Solinst 12 Volt Compressor is lightweight 21 lbs (9.5 kg), compact, and ideal for field use, especially low flow applications of less than 30 m (100 ft) depths.
The compressor operates using 12 volt DC power source, such as a car or truck vehicle battery, and comes with alligator clips. The compressor operates at up to 150 psi and is equipped with a 2 US gallon (7.6 L) air tank which is rated to 175 psi.
Easy Decon or Disposable Polyethylene
Solinst Bladder Pumps are easy to decontaminate. Everything is very accessible. The tubing may simply be flushed or it is easily replaced.
The pump is quick to disassemble and the bladders and screens are simple to replace in the field. No tools required. Inexpensive polyethylene bladders can be quickly replaced to suit regulatory requirements.
Tubing
The standard tubing is 1/4" (6 mm) single line or 1/4" (6 mm) OD dual skip-bonded LDPE. PTFE-lined LDPE and other tubing sizes are also available.
Solinst provides dedicated systems with individual drive and sample lines so that the cost of replacing the sample line is minimized. Portable systems are provided with 1/4" (6 mm) dual skip-bonded tubing for ease of operation.
Filters and Packers
Stainless Steel Bladder Pumps come complete with a 50 mesh intake filter over the sample inlet. These filters are very easy to replace. If required, Solinst also supplies Model 860 Disposable In-line Filters which are used on the sample discharge tube. They are adaptable to fit many sizes of tubing. (See Model 860 Disposable In-line Filter Data Sheet)
Model 800 Low-Pressure Packers can be used with Solinst Bladder Pumps to minimize purge times by reducing purge volumes. This reduces the cost of water disposal and labour. Packers are available in single point or straddle packer designs, and in sizes to fit 2" (50 mm) to 5" (127 mm) dia. wells.
(See Model 800 Low Pressure Packer Data Sheet)