Preset Flow Rates have predefined drive and vent times, they cannot be edited or changed. There are three Preset Flow Rates: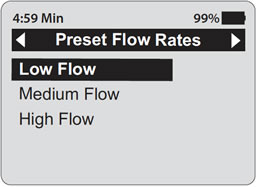 Figure 2-5 Preset Flow Rate Menu
for Solinst Pump Control Unit
PRESET FLOW RATES
Flow
Drive
Vent
Low
50 s
25 s
Med
10 s
8 s
High
3 s
3 s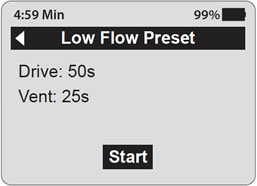 Figure 2-6 Solinst Pump Control Unit
Low Flow Rate Menu
When "Start" is highlighted, pressing OK will start the pumping cycle. When the Control Unit is running the LCD will display the progress of the vent and drive periods. Pressing the OK button when in running mode will stop the cycle.