Control Panel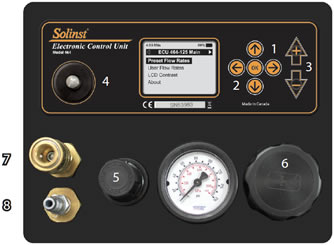 Select a menu item. Press and hold to turn Control Unit off.





Navigate through menus and menu items.



Cycle through numbers and letters when editing.

Manual Control Valve: When pushed, solenoid opens, allowing drive cycle.

Regulator: Turn to increase or decrease pumping pressure.

Battery Enclosure: 4 AA alkaline batteries.
Air Out: Drive line to pump.
Note: Always use the supplied Drive Line with quick exhuast fitting.

Air In: Supply line from compressed gas supply.
The Control Unit does not come with the batteries installed.
Pressing any keypad button will turn the Control Unit on.
Main Menu
A Timer indicates amount of time remaining before Unit turns off. Unit will automatically turn off after 5 minutes of being idle.
B Battery life remaining. Icon will flash at 0% battery.
C Percentage of battery life remaining.
D Indicates a menu can be accessed using left cursor.
E Indicates there is a sub-menu for the active menu item.
F User Flow Rates: Create, Save, and edit customized drive/vent cycles.
G LCD Contrast: Adjust contrast of LCD screen.
H About: Displays installed firmware version.
I Preset Flow Rates: Select a flow rate with predefined drive and vent cycles:
PRESET FLOW RATES
Flow
Drive
Vent
Low
50 s
25 s
Med
10 s
8 s
High
3 s
3 s