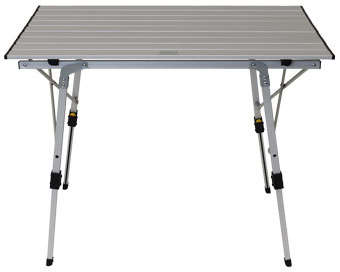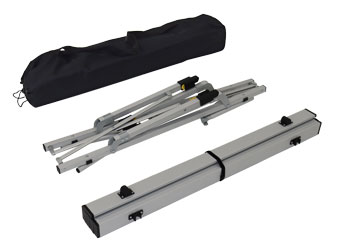 The Stand-alone Field Table from Solinst is made from lightweight aluminium (3.5 kg (7.7 lbs)). It features adjustable legs to meet your height requirements. The legs can be easily set from 45 cm to 70 cm (17.7" to 27.6") high. The tabletop and frame are simple to fold for transport and fit in a compact carry case with a handy shoulder strap. When folded and in the bag, the Field Table measures less than 96.5 cm x 20.3 cm x 14 cm (38" x 8" x 5.5").
The Stand-alone Field Table, with a larger tabletop surface area – 90.5 cm x 52 cm (35.6" x 20.5") – is ideal for groundwater sampling applications. It provides a stable, level surface for equipment such as the Solinst Model 410 Peristaltic Pump or the 464 Electronic Pump Control Unit, as well as your sample containers, coolers, etc. It also provides a space for disassembling equipment such as pumps and bailers, for decontamination between sampling rounds.
The Stand-alone Field Table is also a safe/dry spot to use your field laptop or spread out tools and equipment for larger projects, such as pumping tests, or multilevel system or other well installations. The Stand-alone Field Table's slatted tabletop allows water to easily drain and the notches keep equipment, such as Leveloggers, from rolling off.
Stand-alone Field Table Features
Legs are easily adjusted to different heights
Easy to set up and can be deployed anywhere on your monitoring site
Aluminium tabletop and frame will not rust
Larger surface to spread out equipment, laptop, paperwork, etc.
Slatted tabletop allows water to drain
Foldable and lightweight design comes with carry bag
Ideal for groundwater sampling applications, pumping tests, well installations, etc.