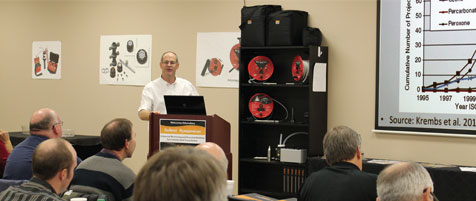 To begin his presentation, Rick discussed the current trends in groundwater remediation. Over the past decade, in situ methods have greatly increased in popularity. Although the use of these approaches is growing, Rick pointed out some limitations. Geological heterogeneity is a limitation to determining hydrogeological aspects of a contaminated site, and how a reagent will be distributed.
Rick presented the results of comparison field studies that used different oxidants, and tested how injection methods effect their distribution.
Rick's results showed that direct push methods were more effective than injection wells at getting the oxidant to the target remediation zone. However, each method had minimal vertical distribution. The experiments also showed that Permanganate extended further from the injection zone than Persulphate, and that the radius of influence was greater using direct push methods over injection wells.
Persistence and distribution are both effected by oxidant demand. The contaminants in the soil, groundwater, and the soil itself will all have demand for oxygen. Soil oxygen demand depends on texture, and mineralogy – fine-grained materials with higher organic and clay content have higher demand. The higher the demand, the faster the oxidant is used-up. As such, the persistence and distribution of the oxidants was greater in coarser grained material.
These study results provide insight on how to overcome the limitations of heterogeneity. Choosing methods that best suit the site, and oxidants that persist and are distributed where needed. Rick also suggested distribution enhancements, including sequential treatments such as injecting an amendment into the contaminated zone, then following up with enhanced bioremediation. Increasing distribution and persistence is important to ensure issues such as back diffusion are cleaned-up.


ABOUT THE SPEAKER – Rick McGregor, M.Sc.
InSitu Remediation Services Ltd.
Rick McGregor is a hydrogeologist with 21 years experience in the area of groundwater and soil remediation. He holds a Masters degree from the University of Waterloo in the area of hydrogeology and geochemistry and has worked as a researcher at Environment Canadas Wastewater Technology Center as well as a consultant. He currently manages numerous insitu programs around the globe including projects in Saudi Arabia, Brazil and North America and sits on numerous governmental and private advisory committees.