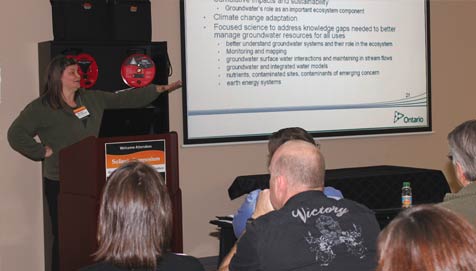 From the induction of the Drillers Act in 1946 to the Walkerton tragedy in 2001, Christopher Munro and Heather Brodie-Brown discussed the major changes and events that have shaped how groundwater is managed in Ontario.
In addition, their presentation included an overview of the major groundwater management initiatives taking place in Ontario today. This includes the Provincial Groundwater Monitoring Network overseen by the Ministry of Environment and Conservation Authorities, the Ontario Geological Survey's Groundwater Mapping Program, the Permit to Take Water Program in Ontario, as well as the completion of Source Water Protection Plans under the Ontario Clean Water Act.
They also touched on issues that will be the focus of groundwater management in the future, including integrated water and watershed management, cumulative impacts and sustainability, climate change adaptation, geothermal wells, and groundwater/surface water interactions.
At the end of the presentation, the focus was put on the attendees to provide ideas and suggestions to improve and advance groundwater management in the future.
ABOUT THE SPEAKERS –

Christopher R. Munro, MSc.Eng, P.Eng.
Ministry of Environment
Christopher Munro has been involved in project management and has a wide range of technical skills that have been used to complete diverse projects such as: large and small scale water supply issues; wellhead protection studies; groundwater / surface water interactions; groundwater interference; construction dewatering projects; small scale water treatment systems; aggregate supply applications; and contaminant remediation. Christopher joined the Ministry of Environment's Central Region Technical Support Section in November 2005 as a hydrogeologist and his main responsibilities include completing technical reviews of projects with groundwater quality and quantity impacts such as Permit to Take Water (PTTW) Applications, contaminated site assessments, and is a Peer Reviewer for the Source Water Protection Tier 3 Water Budget Assessments. Christopher's other Ministry roles have been the acting Supervisor for the Water Unit Resources and Section 34 Signing Director for PTTW Applications, as well as a hydrogeologist for the Central Audit Team, who review applications for Record of Site Conditions. Prior to joining the Ministry, Christopher has conducted research and consulting in Ontario, Canada's three arctic territories, and Central America. Christopher has been the Ontario Representative for the International Association of Hydrogeologists – Canadian National Chapter Inc. since 2006 and is also the Publicity Chair for the International Association of Hydrogeologists' annual congress that will be held in Niagara Falls, Ontario in September 2012.

Heather Brodie-Brown, M.Sc., P.Geo.
Ministry of Environment
Heather Brodie-Brown received a B.S. in Earth sciences from McGill University (Montreal) in 1987 and an M.S. in groundwater resource management from University College, University of London in England, in 1992. Brodie-Brown has been employed at the Ontario Ministry of Environment in various capacities for the past eight years: regional hydrogeologist, waste site evaluator, senior contaminant hydrogeologist, and team lead — water resources science. Since joining the MOE, she has been involved in various projects, such as:
Reviewing assessments and risk assessments of contaminated sites, off-site plumes, landfills, and large (communal) subsurface sewage systems
Developing guidance for source protection vulnerability and WHPA, PHCs in groundwater, CVOCs in groundwater, and various other groundwater-related topics
Participating in multistakeholder teams addressing groundwater sustainability and groundwater's role in the Great Lakes
Providing expert advice and working on the development of environmental standards related to wells, geothermal systems, nutrient management, deadstock, and other issues.
Prior to joining the MOE, Brodie-Brown was an environmental consultant involved in designing, project managing, conducting, reporting on, and reviewing numerous water resource protection and hydrogeological investigations. She conducted environmental site assessments and remediation/clean-up programs addressing watershed and multimedia issues. Her consulting experience includes work in the United States, Botswana, and Canada.