To get the Symposium started, Gary Wealthall provided a brief history of the evolution of high resolution tools and methods for groundwater monitoring.
Gary presented a time-line of key developments in groundwater monitoring technologies, from the introduction of conventional monitoring wells in the 1950's, to the late 1970's when the first multilevel groundwater monitoring systems were produced.
He also touched on the important studies, presentations, and research papers that have brought the groundwater monitoring industry to where it is today.
Since the introduction of multilevel systems, Gary noted there have been significant advances in understanding hydrogeological processes. Overall, the use of multilevel systems has provided a better understanding of contamination in groundwater, including DNAPL plume behavior.

Research has shown that using transects of multilevel systems across a contaminated site is invaluable for quantifying hydraulic parameters. Transects have been successfully used to perform tracer tests as well as flux based assessments.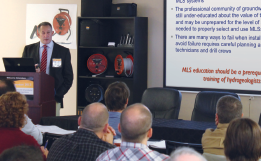 Although there has been a great gain of knowledge through the use of multilevel systems, Gary asked the question: where the industry is headed next? He noted that there has been a time-gap since the latest technological advancement. Since the introduction of the Solinst CMT System in 1999, there has not been a significant new technology introduced to the market.
Gary feels that there is definitely room in the marketplace for a new high resolution, depth-discrete groundwater monitoring technology – especially as the remediation industry moves forward with more sophisticated technologies that require more sophisticated data sets.
Gary also feels that knowledge and hands-on work with multilevel systems should be a prerequisite for training future hydrogeologists. Currently there is a lack of guidance and education on the benefits and understanding of what is involved in installing and monitoring complex multilevel systems. Gary's introduction definitely got everyone thinking!

ABOUT THE SPEAKER – Gary Wealthall, MSc, PhD
Associate & Adjunct Professor
Geosyntec Consultants, Inc.
Gary has over 20 years' experience in contaminant hydrogeology research and practice. He joined Geosyntec Consultants from the British Geological Survey where he led a research team that focused on the application of process-based research to advance conceptual understanding of pollutant behavior in heterogeneous geological systems for site evaluation, risk assessment, site restoration and performance verification. This research included the development and application of a range of high resolution groundwater monitoring tools to characterize and quantify the fate and transport of organic and radionuclide transport in intergranular and fractured bedrock.
Gary is currently advancing the state of the practice through the use of three-dimensional reconstruction and visualization tools for process-based mapping of DNAPL contaminants in the subsurface and is leading the development of a new remedy selection tool to evaluate remedial alternatives selection at complex DNAPL megasites. His current role focuses on remedial investigation projects and technical oversight for a number of clients at DNAPL sites in Europe, North America, South America and Australia.
Gary is an Adjunct Professor in Environmental Engineering at the University of Guelph, Ontario, Canada. His academic background includes a PhD in Environmental Engineering from the University of Sheffield and a MS in Hydrogeology and Groundwater Chemistry from the University of Reading. He has co supervised post-graduate projects at a range of universities and was an external examiner (PhD) at the Universities of Cambridge, Edinburgh and Western Australia (Perth).
Gary is internationally recognized for his expertise in DNAPLs and fractured bedrock and has delivered numerous invited (sponsored) keynote addresses and several lecture series in site characterization methods. He is also the author of numerous publications on the fate of NAPLs in aquifer and aquitard systems and his knowledge transfer publications include co-author of the popular EA R&D Publication 133: 'An Illustrated handbook of DNAPL transport and fate in the subsurface'.
He is currently co-authoring a companion LNAPL guidance document, which is funded by Shell Global Solutions and coordinated by CL:AIRE. Gary is a member of the current ITRC DNAPL Panel revision and update to best-practice guidance for the characterization of DNAPL sites.