Peristaltic Pump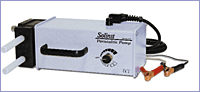 The latest version of the Solinst Peristaltic Pump features improvements designed to make the pump even easier to operate and use in the field.
One easy-access control enables reversible flow and varied speeds
Steadier flow, with rates ranging from 40 mL/min. to 3.5 L/min.
Compact, and lightweight, the metal case is extremely robust and water resistant. The pump has no grates, vents, or openings, making it easy to maintain and repair. Simple connection with alligator clips to a 12V power source provides convenient operation. Effective to depths up to the suction lift limit, which varies with elevation, and can be as much as 33 ft or 10 m at sea level.
Leveloader Gold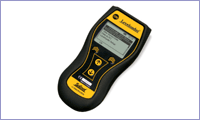 The Leveloader Gold is a data transfer device for use with all versions of the Solinst Levelogger. This handheld device features a rugged, waterproof, ergonomic exterior and stores up to 1,390,000 LT readings, 930,000 LTC readings, or 34 full Levelogger downloads. It comes ready with USB and RS232 cables, and one convenient 'Y' cable with optical and direct connectors. The Leveloader can be used to reprogram a Levelogger in the field. It also displays useful information on battery life and available memory of the Leveloader itself and the attached Levelogger. Real Time View is ideal for observing live water level and temperature fluctuations.