Water level meters are not just used for measuring in standard 2″ diameter monitoring wells (although Solinst Water Level Meters are great for that!) numerous specialized applications require their use.
To better address all the different situations where a water level meter is needed, Solinst is always refining, redesigning, and adding options to meet the needs.
For example, Solinst updated the original probe offerings for the Model 102 Narrow Diameter Cable Water Level Indicators. Now, each probe has been designed with specific field scenarios in mind.
The 102 Water Level Indicator, in general, is designed to measure water levels in narrow diameters. It uses an accurately marked cable as opposed to the traditional flat tape water level meter (its coaxial cable design also makes it very cost-effective).
For Deep or Crowded Wells and Boreholes
The 102 Narrow Diameter Cable Water Level Indicator with the new P10 Probe is excellent for deeper applications, and is easy to handle in situations where there may be downhole restrictions, as it can simply snake past obstacles.
The P10 Probe is the heavier and more robust of the two new probes. It is 10 mm (3/8″) in diameter, and features a stainless steel body and ten stainless steel weights. It weighs 6.14 oz. (174 g), and extra weights can be added if needed.
Because of its weighted design, the P10 Probe is the best option for those measuring in deeper wells or boreholes (it is available on cable lengths up to 300 m (1000 ft)).
The ten small, segmented weights also make the P10 Probe assembly very flexible. This is handy in situations where you need to maneuver past downhole instrumentation such as pumps or other equipment, or down a narrow sounding tube.
As such, the P10 Probe is useful when performing pumping tests, or other aquifer characterization tests. It can also be used to monitor drawdown when obtaining groundwater samples using low flow methods.
The P10 Probe is also ideal for navigating through narrow pipes and measuring in tanks, which can be a benefit to those working at water and wastewater facilities.
Ultimately, the 102 Water Level Indicator with P10 probe is useful in many special applications, but attractive also for standard monitoring in wells because of the weighted probe, accurate cable, and the well-designed reel and electronics.
For Measurement in the Narrowest Applications
The 102 Narrow Diameter Cable Water Level Indicator with new P4 Probe is excellent for depth to water level measurement in the narrowest applications.
The stainless steel P4 Probe is only 4 mm (0.157″) in diameter and does not include any weights. At only 4 mm, the P4 Probe is designed to slide down narrow open tubes, even as tight as 1/4″ID (6 mm).
Direct push equipment has become popular for initial assessments of a site's groundwater – the 102 with P4 Probe is excellent for use with narrow diameter piezometers or standpipes. The P4 Probe can be used to measure in Solinst Model 615 Drive-Point Piezometers, which use 5/8″OD x 1/2″ID open tubing connected at the tip.
The P4 Probe's small size also makes it the best option for measuring water levels in the channels of a Solinst CMT Multilevel System. If using a narrow diameter Mini Inertial Pump, you are able to fit a P4 Probe along side in the same channel; so, you can measure water levels in the same channel you are obtaining water samples from.
Note: A multilevel system allows the monitoring of a number of discrete groundwater zones in one borehole. Sealed ports are placed at various depths to obtain a profile of the subsurface by collecting samples and water levels from each zone. As such, monitoring channels in a multilevel system tend to be very narrow.
You can also use the P4 Probe in a Solinst Waterloo Multilevel System. Waterloo Systems have the option of 1/4″ID, 3/8″ID, or 1/2″ID open tubes installed at the monitoring ports; the P4 Probe can be pushed down these open tubes to obtain water level measurements at multiple monitoring depths.
For any Water Level Measurement Application
The Model 102 Narrow Diameter Cable Water Level Indicator isn't just made for narrow applications, it really works for depth to water level measurement in any situation. It's durability, affordability, and accuracy make it an industry favorite.
Having a Model 102 at the ready in the field, means that you are much less likely to encounter field conditions that prevent level measurement. This can save you time and money by being prepared for a variety of field conditions!
Note: The Model 102 can solve issues with access or portability; both the P4 and P10 Probes are available on a Model 102M Mini Water Level Meter. The 102M Mini Water Level Indicator has 85 ft or 25 m of cable on a very small reel that fits right in a backpack or mini carrying case.
To meet your application needs, browse our full range of water level measurement devices to see all available options: http://www.solinst.com/products/level-measurement-devices/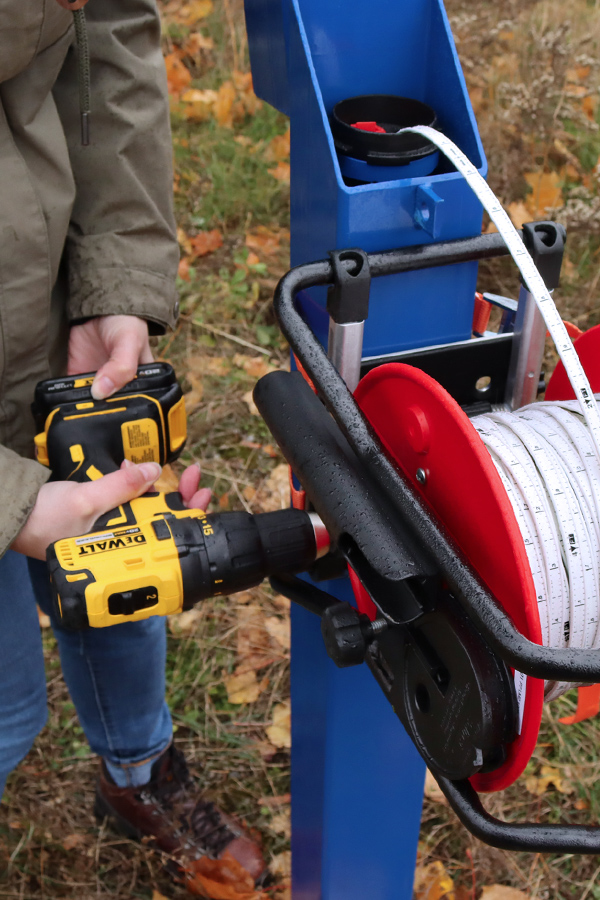 The Solinst 101 Power Winder provides both convenience and ease of use for all Solinst reel-mounted devices. The Power Winder is lightweight and easy to attach to every size Solinst reel frame, and is simple to adjust to fit other Water Level Meters on the market. It is designed to allow effortless winding of longer lengths of tape, cable and tubing. The Power Winder uses a standard power drill or driver to operate.
Get a Quote!