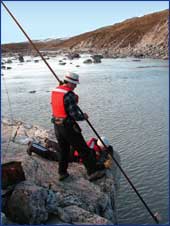 The Greenland Ice Sheet covers 80% of the Island of Greenland – it is the largest ice mass in the Northern Hemisphere. Therefore, it should be no surprise that it is suspected to be a key contributor to current and future global sea level rise, particularly as the earth's temperature continues to increase.
Satellite evidence shows surface ice sheet melting and its volume shrinking, but questions arise – how much melt water is actually leaving the ice mass and entering the ocean, and how much refreezes within the sheet through the process of "firn densification" – increasing ice sheet density and decreasing volume, but never entering the ocean?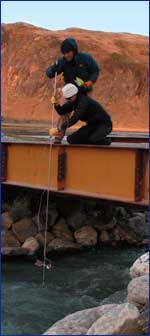 With funding provided by NASA, Dr. Laurence Smith, a professor with the Departments of Geography, and Earth and Space Sciences at UCLA, is leading an ambitious research project to help answer these questions.
To obtain field data critical to the study, the project is being aided by Solinst Leveloggers. Initially, in 2007, two study sites were instrumented with a Levelogger Gold and a Barologger to capture accurate ice sheet melt water levels and barometric readings. The Leveloggers are set to record every 15 minutes. The logged readings are monitored at UCLA, as the Levelogger data is sent via satellite telemetry to the University.
Six more study sites were added this past summer. The Leveloggers were installed around the edges of the ice sheet in outflow rivers, and set to capture more frequent data at 1 reading per minute, in order to measure micro floods and pulses. In 2008, calibrating in situ discharge measurements were also taken, allowing water levels to be converted to units of water flux (m3/s). Data was collected and downloaded in the field over the course of the summer by Smith, Vena Chu (Ph.D. student), Asa Rennermalm (postdoctoral scholar) and Rick Forster (University of Utah).
One of few studies of its kind, researchers are measuring outflow levels of the ice sheet to gain insight on how much melt water may actually be contributing to sea level rise.
Acknowledgement: Solinst thanks Dr. Laurence Smith of UCLA for providing the details of this application.