Solinst has been known for instruments that are accurate, convenient, and made durable for the toughest field conditions. Over the years, our Water Level Meters have gone through many design improvements, always maintaining the features that make them "built-to-last".
Our Water Level Meter tapes feature these characteristics:
Easy-to-read, accurate markings every 1/100 ft or each millimeter;
Dog-bone design that prevents clinging to the sides of wells;
Stainless steel conductors that provide strength, resist corrosion and limit stretching;
Flexibility allowing them to reel easily and hang straight in application;
Easy to repair and splice – if required!
Water Level Meters with Durable PVDF Flat Tape
Solinst introduced a tape that we laser-mark right in our own facility (certified traceable to National Standards). Since then, feedback from our clients has been great. This tape is made of PVDF (Polyvinylidene fluoride), which is an extremely durable and stain-resistant material. It is also highly chemical resistant. The tape's design makes it high in tensile strength and electrical efficiency – which is very advantageous for deep well applications using longer tape lengths.
This tape is used for our Model 101 Water Level Meters, Model 101D Water Level DrawDown Meter, Model 107 TLC Meter, 201 Water Level Temperature Meter, 105 Well Casing & Depth Indicator, and our Model 122 Interface Meters. The PVDF is ideally suited for our Model 122 Interface Meters, as they are often used in applications where the tapes may be exposed to contaminants. Interface Meters are primarily used to detect oil/water interfaces and layers of LNAPL and DNAPL – which can contain nasty chemicals. The PVDF tape is very easy to clean and decontaminate.
Water Level Meters with Full Unit Repairability
Our Water Level Meters are often used in very rugged conditions, tossed into the back of trucks, and kept around for years of field use. Although our Meters are built for durability, we have always said that "it is not a question of if you get the probe stuck, or nick the tape on the well casing, but rather when" – so we have always offered Water Level Meters that are fully repairable.
A major advantage of using the same PVDF flat tape for each laser marked meter type, is interchangeability. PVDF replacement tapes come with the same tape seal plug, which can connect any of the probes (Model 101 P7, 105, 107 TLC, 201 WLT or 122 P8). This is extremely handy for companies that rent Solinst equipment or companies that use multiple Solinst Meters. One replacement tape on hand, is ready for any Meter when required.
Note! We do provide tape guides with all our Meters to help prevent damage to the tape when taking water level measurements, but accidents do happen!
Do-it-yourself Repairs!
You don't have to be intimidated if faced with a repair. Solinst offers a tape splice kit that does not require any soldering. You can follow the very straightforward instructions to repair a tape, add a new tape section, or replace a probe on a short length of tape. For additional assistance, Solinst has produced videos that show step-by-step how to perform the tape splice (or coaxial cable splice for Model 102 Water Level Meters).
Other repairs are also not difficult to perform. As previously mentioned, complete replacement tapes are available, which can be easily connected to the Water Level Meter reels – with or without probes attached. Probes are also simply replaced. You can also repair faceplate electronics and reel accessories.
Sometimes all it takes is a phone call, and some troubleshooting with a Solinst technical representative to solve your issue. It may be as simple as cleaning the Water Level Meter probe or replacing a battery!
In addition, all Solinst Water Level Meters, DrawDown Meters, WLT Meters, TLC Meters and Interface Meters have a 3-year limited warranty. Solinst strives to make products that are easy to use, accurate, and tough – but if something is not working, Solinst has options to help.
Get a Quote for a Solinst Water Level Meter Now!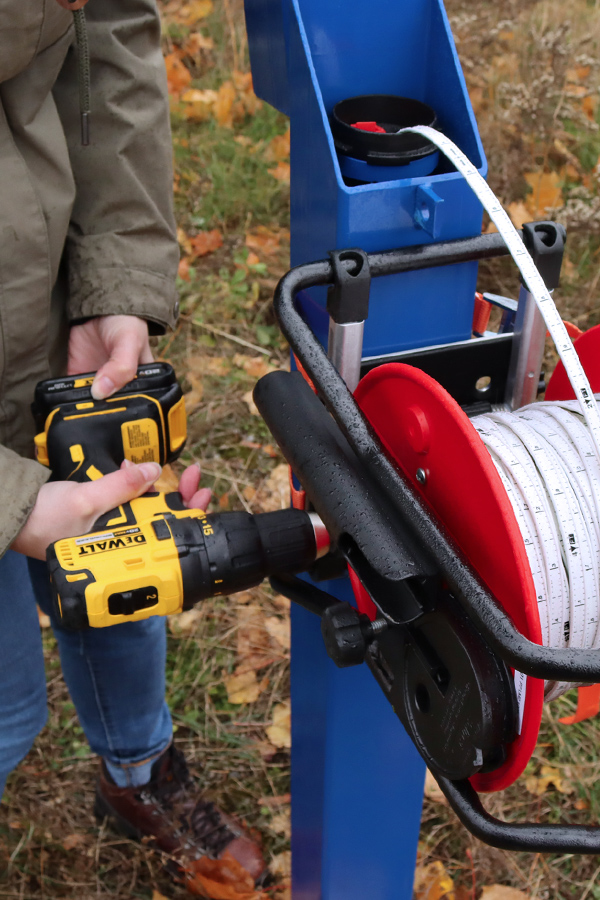 The Solinst 101 Power Winder provides both convenience and ease of use for all Solinst reel-mounted devices. The Power Winder is lightweight and easy to attach to every size Solinst reel frame, and is simple to adjust to fit other Water Level Meters on the market. It is designed to allow effortless winding of longer lengths of tape, cable and tubing. The Power Winder uses a standard power drill or driver to operate.
Get a Quote!