Water level measurement accuracy Solinst is known for, with the addition of convenient temperature profiling.
#1 Design on the Market:
What sets our Water Level Temperature Meter apart?
Largest temperature range on the market:
-20˚C to 125˚C
Highest temperature resolution on the market:
0.01˚C
Longest tape lengths on the market:
600 m (2000 ft)
Submersible to the full length of the tape
Best complete unit Warranty on the market:
3 Years
Temperature accuracy is:
+/-0.1ºC from -5ºC to +50ºC
+/-0.5ºC outside of that range
Laser Marked PVDF flat tape: marked every mm or 1/100 ft
Lowest price on the market for comparable products
How can the WLT Meter be used?
Profiling temperature in wells, tanks and surface water
Detecting runoff, points of inflow, or other sources of thermal pollution
Early warning of changes in water quality and chemistry, including dissolved oxygen levels and conductivity
Monitoring and predicting changes in aquatic environments and biological activity
Geothermal surveys
The WLT Meter is an excellent tool for geothermal drillers, hydrogeologists, hydrologists, aquatic biologists, ecologists and chemists, and environmental scientists.
Related Products
The 101 Power Winder provides both convenience and ease of use for all Solinst reel-mounted devices. It is lightweight and easy to attach to small, medium or large size Solinst reels, and is simple to adjust to fit other reels in the market. Effortlessly wind longer tape lengths.
(Image shows 101 Power Winder Installed on Solinst Model 201 Water Level Temperature Meter)

The 615ML Multilevel Drive-Point System allows monitoring of up to 6 zones in one drive, using ports with a dual barb stem to attach either ¼" or ⅜" OD tubing. Install using extensions and a Manual Slide Hammer, similar to standard 615 installations, for high-resolution vertical groundwater or soil gas profiling.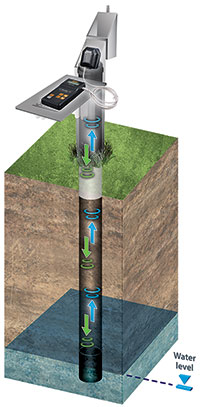 The 104 Solinst Sonic Water Level Meter is a portable, acoustic ranging instrument designed to simply and quickly provide depth to static water level measurements down to 600 m (2000 ft), without the need to lower equipment down a well. Ideal for straight, crooked, narrow, hard to access, or contaminated wells.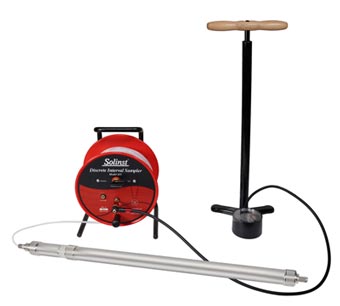 The Model 425-D Deep Sampling Discrete Interval Sampler obtains water or product samples from a specific zone without the need for purging. The sealed sampler is pressurized at depth allowing sample to enter. It is vented and sealed before retrieval to surface, maintaining sample integrity.
Blog Posts & Case Studies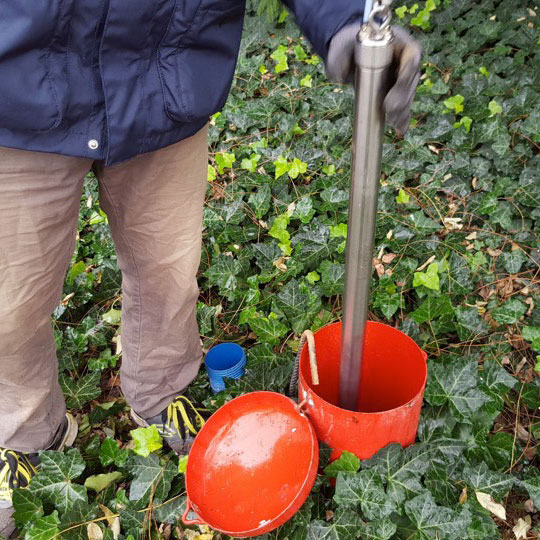 Get further water quality results by taking a groundwater sample using a Solinst Bladder Pump. Bladder Pumps ensure no air/water contact during operation, providing excellent VOC sample results. Read more in a case study where Bladder Pumps were used in a PCE vertical distribution investigation.