Ideal for profiling conductivity and temperature
Fast response, easy to use
Rugged design
The Model 107 TLC Meter is ideal for profiling conductivity and temperature in wells and open water, for salt-water intrusion studies, and a general indication of contamination levels. The 3/4" (19 mm) diameter probe is attached to Solinst PVDF flat tape; accurately laser marked every 1/100 ft or each millimeter. Lengths up to 1000 ft or 300 m, mounted on a Solinst reel.
The conductivity range is from 0-80,000 µS/cm. Conductivity and temperature measurements are displayed on a rotating LCD screen on the face of the reel. Conductivity accuracy is 5% of reading or 100 μS (which ever is greater). A light and buzzer are briefly activated when the zero point of the probe enters water. The depth to water and depth of displayed readings are read off the tape. The 9V alkaline battery is housed in an easy-access battery drawer and provides up to 90 hours of use.
Related Products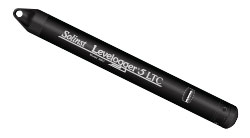 Conductivity, level and temperature datalogging
Calibrated range 50 to 80,000 μS/cm
Ideal for salinity and saltwater intrusion studies, tracer tests, agricultural and stormwater run-off monitoring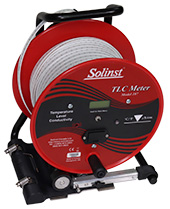 The 101 Power Winder provides both convenience and ease of use for all Solinst reel-mounted devices. It is lightweight and easy to attach to small, medium or large size Solinst reels, and is simple to adjust to fit other reels in the market. Effortlessly wind longer tape lengths.
(Image shows 101 Power Winder Installed on Solinst Model 107 TLC Meter)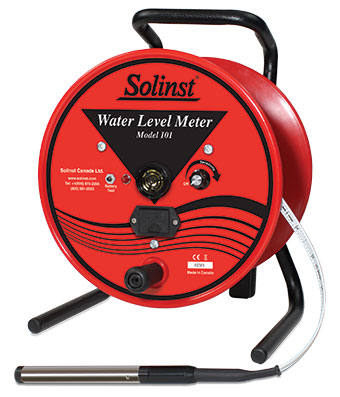 Accurate, durable laser marked flat tape
Lengths to 5000 ft (1500 m)
Reliable and built to last
Submersible P7 Probe

The 615ML Multilevel Drive-Point System allows monitoring of up to 6 zones in one drive, using ports with a dual barb stem to attach either ¼" or ⅜" OD tubing. Install using extensions and a Manual Slide Hammer, similar to standard 615 installations, for high-resolution vertical groundwater or soil gas profiling.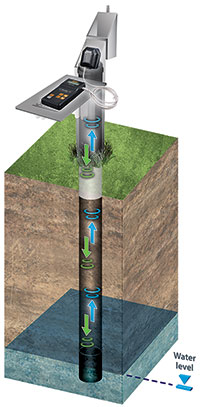 The 104 Solinst Sonic Water Level Meter is a portable, acoustic ranging instrument designed to simply and quickly provide depth to static water level measurements down to 600 m (2000 ft), without the need to lower equipment down a well. Ideal for straight, crooked, narrow, hard to access, or contaminated wells.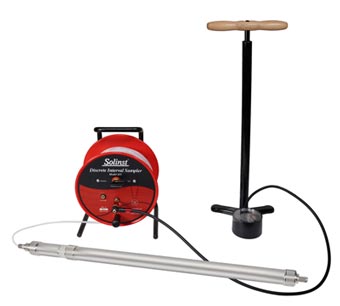 The Model 425-D Deep Sampling Discrete Interval Sampler obtains water or product samples from a specific zone without the need for purging. The sealed sampler is pressurized at depth allowing sample to enter. It is vented and sealed before retrieval to surface, maintaining sample integrity.
Blog Posts & Case Studies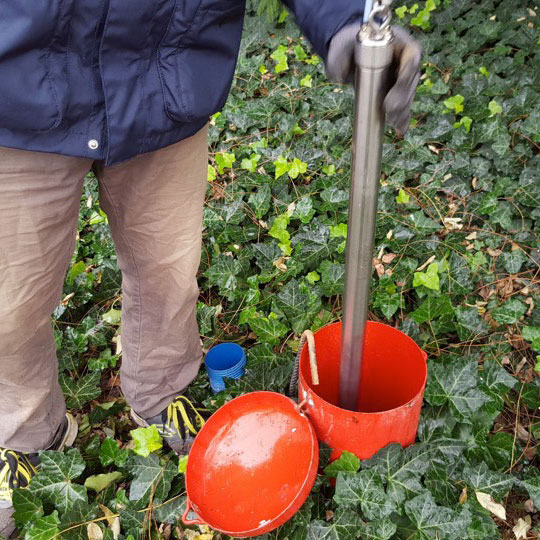 Get further water quality results by taking a groundwater sample using a Solinst Bladder Pump. Bladder Pumps ensure no air/water contact during operation, providing excellent VOC sample results. Read more in a case study where Bladder Pumps were used...