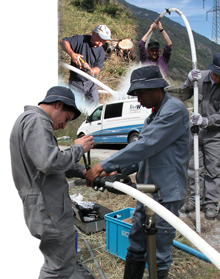 Over 5,000 Installations Worldwide
Single tube for effective sealing - no joints
Easy to install in one day
Typical backfill or sand/bentonite installation
Obtain detailed depth discrete groundwater data using a CMT Multilevel System. Monitor up to 7 zones in one well.
Laser Marked
Water Level Meters

Solinst Model 102 Coaxial Cable Water Level Meters have permanent, accurate laser cable markings every 1/100 ft or each millimeter.
3/8" Diameter Flexible
Pneumatic Pump

The Micro Double Valve Pump has a remarkably small and flexible design. At 3/8" (10 mm) diameter it is small enough to sample groundwater from channels of a CMT System.

Compact, lightweight, rugged design

One simple control

Flow rates from 40ml/min to 3.5 L/min

Ideal for sampling groundwater and vapor sampling
The Tag Line uses a weight attached to laser marked cable, mounted on a sturdy reel. Convenient for measuring depths during monitoring well construction.