Tools and Materials Needed for Grouting
7-Channel CMT Purge/Grout Adaptor Assembly (#108130) Includes:

Purge/Grout Adaptor
• 1 x Gear Clamp (#108201)
2 x Internal (#V130) O-rings (one extra) (#103807)
12 x Grout Plugs (#104027)
1 x Hex Plug (#108208)

7-Channel Torque Driver (#107255)
Slot Head Screwdriver
2" = 50 mm, 1" = 25 mm, 1/4" = 6 mm, 1/8" = 3 mm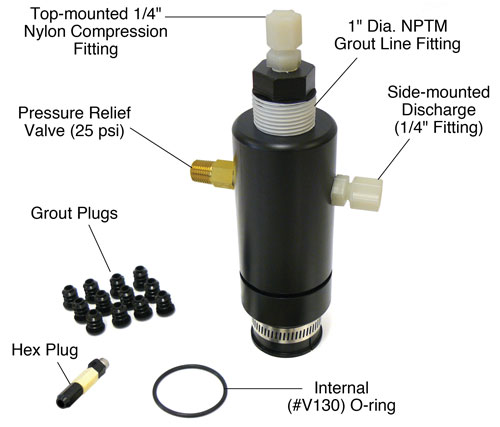 Grout Adaptor Operating Principles
Once the ports are completed in the CMT, and prior to installation, the vent holes, located below each of the port openings, are fitted with Grout Plugs. This helps reduce the amount of excess grout flowing from the vent holes during the grouting process.
The Purge/Grout Adaptor is then attached to the bottom of the CMT. The Grout Adaptor allows the connection of a 1" diameter NPTM grout line. The unused CMT channels below each port opening can be filled with grout from the bottom port up. A pressure relief valve (25 psi) is built-in to the adaptor to avoid over-pressurizing the CMT channels.
Grout Adaptor Setup Instructions
With the ports completed, lay the CMT on the ground and use the torque driver to install and torque the Hex Plug into the bottom/base of the CMT (in middle Channel 7).
Insert the Grout Plugs to restrict flow into each vent hole.
With the top-mounted 1/4" compression fitting still attached, unscrew and remove the upper black Delrin® fitting from the top of the Grout Adaptor. This will allow access forthreading the 1" diameter grout line.
Be sure to keep the O-ring inside the base of the Adaptor. This will ensure a seal between the Adaptor and the CMT tubing.
Place the Adaptor onto the base of the CMT tubing and slide up by about 2". Tighten the Gear Clamp at the base of the Adaptor to secure it to the CMT.
Plug the Side-mounted Discharge with a grout bypass line.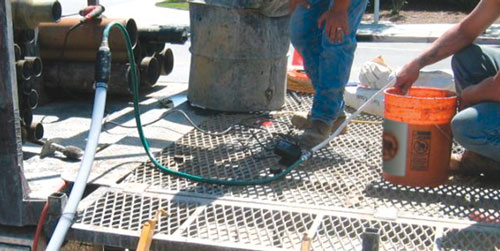 1" diameter Grout Line connected to Grout Adaptor, attached to bottom of CMT.
Grouting Instructions
With the CMT assembly still lying on the ground, thread the 1" diameter grout line directly onto the top of the Grout Adaptor.
Proceed to grout until the grout reaches and exits the Grout Plugs, in each of the vent holes.
Remove the Grout Adaptor and clean. Wipe the end of the CMT clean.
Install and torque the Base Plugs into each of the outer CMT channels.
Remove the centre Hex Plug and install the guide point port.
Decontamination Suggestions
Follow your usual cleaning protocols and procedures. Washing the Adaptor can be easily accomplished with a small brush and suitable cleaning solution.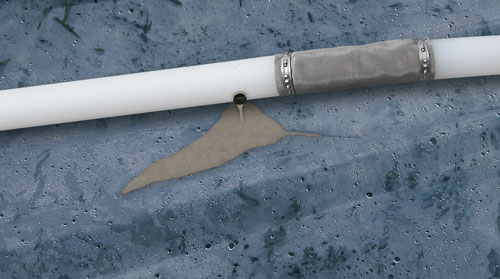 Grout exiting the Grout Plug, below the Port Screen.
® Delrin is a registered trademark of DuPont Corp.