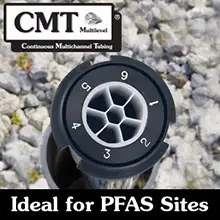 Proven & Effective for PFAS Monitoring
Provide the most accurate 3-D assessment of a PFAS site
Vital to understanding vertical PFAS contaminant transport
Allow documentation of changes in the concentration and delineation of PFAS contaminant plumes
Low cost compared to multiple individual wells
Minimize site disturbance
Research Article: The Effect of Heterogeneity on the Distribution and Treatment of PFAS in a Complex Geologic Environment
*Article Quote: "The characterization and monitoring of the site was completed with the aid of a series of multilevel wells and continuous cores. The groundwater was monitored using three CMT Multilevel Systems (Solinst, Canada) including one 3-channel system and two 7-channel systems (Figure 1)…To characterize the groundwater prior to and post-injection, groundwater samples were collected for analyses of various chemical parameters including PFAS, BTEX, major cations [calcium (Ca), magnesium (Mg]) potassium (K), sodium (Na), iron (Fe)], manganese [Mn], and anions [chloride (Cl), nitrate (NO3), and sulfate (SO4)] using low-flow sampling methods (Puls and Barcelona, 1996)."
* McGregor R and Benevenuto L (2021)
The Effect of Heterogeneity on the Distribution and Treatment of PFAS in a Complex Geologic Environment. Front. Environ. Chem. 2:729779. https://doi.org/10.3389/fenvc.2021.729779
---
Research Article: Six pilot-scale studies evaluating the in situ treatment of PFAS in groundwater - Rick McGregor
**Article Quote: "The concentrations of the six PFAS within the groundwater sampled from the monitoring well and CMT within the CAC PRZ were all below the detection limit during the five post injection sampling events including samples collected on Day 549 (Figure 9). These results indicate that the PFAS were being effectively adsorbed by the CAC. Sampling and analysis of the CMT multilevel monitoring well indicated that the six PFAS were below their detection limits throughout the vertical extent of the plume including within the coarse‐grained sand seam". Rick McGregor
** McGregor R. Six pilot‐scale studies
evaluating the in situ treatment of PFAS compounds in groundwater.
Remediation. 30:39–50. https://doi.org/10.1002/rem.21653
---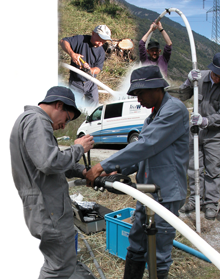 Over 5,000 Installations Worldwide
Single tube for effective sealing - no joints
Easy to install in one day
Typical backfill or sand/bentonite installation
Obtain detailed depth discrete groundwater data using a CMT Multilevel System. Monitor up to 7 zones in one well.

CMT Multilevel System Case Studies and Articles
Eliminate going to the field to download your Levelogger data. Quickly and easily add cellular telemetry to your Levelogger monitoring wells. The LevelSender 5 is designed to connect to Direct Read Cables and Leveloggers, upgrading your current installation by adding cellular telemetry at an affordable price. The LevelSender is compact in design, and is simple to setup and maintain. Leverage your current Levelogger 5 assets and increase your efficiency by adding a LevelSender.
Spectrasens exclusive distributor of Solinst in the Netherlands, proposed Solinst CMT Multilevel Monitoring Systems to help gather high-resolution groundwater data in the Botlek region.
HydroTerra, exclusive distributor of Solinst products in Australia, was recently given the task of providing three CMT Multilevel Systems to an alumina refinery in Queensland, Australia. The groundwater monitoring program at the refinery includes monitoring one 7-channel and two 3-channel CMT Systems, and also biannually sampling 90 groundwater monitoring wells located in and around the…
The answer is yes – especially if you use a Solinst CMT Multilevel Groundwater Monitoring System. CMT Systems are low cost, quickly installed, and are easily customized to suit your multilevel groundwater and soil gas monitoring needs. What is CMT? CMT stands for Continuous Multichannel Tubing. CMT is continuously extruded medium-density polyethylene (MDPE) tubing that…
A facility in Pontypool, Wales, UK was once the location of a plastic forming plant. Over time, chemicals produced through the plastic forming processes were lost into the groundwater beneath the facility, creating a large contaminant plume. Years later it was determined that the plume is migrating off site. In order to intercept…
CMT Used To Measure Mass Flux At A Complex Site
In a town in the Piedmont physiographic province, in the mid Atlantic, a proposed water supply well was contaminated with methyl tert butyl ether (MTBE). The well is located down gradient of several gas service stations with multiple known sources of MTBE. As such, a remedial effort was required by Virginia Department of Environmental Quality…
Related Products
The Waterloo Emitter™ is a simple, low cost device designed for the bioremediation of contaminated groundwater. It enables oxygen or other amendments to diffuse through silicone or LDPE tubing in a controlled, uniform manner. Ideal for aerobic bioremediation of MTBE and BTEX, with minimal maintenance required.
The Micro Double Valve Pump has a remarkably small and flexible design. At 3/8" (10 mm) diameter it is small enough to sample groundwater from channels of a CMT System.
The Tag Line uses a weight attached to laser marked cable, mounted on a sturdy reel. Convenient for measuring depths during monitoring well construction.
The Model 105 Well Casing & Depth Indicator detects metal well casing and measures total well depth using one probe. Ideal during well construction or decommissioning.
Consider making your life easier in the field by ordering one of our convenient Field Tables. We have two models available, Well-mount and Stand-alone, to keep your equipment organized and provide a clean, sturdy surface to hold your field tools.
Well-mount Field Table - 115209
Stand-alone Field Table - 115312