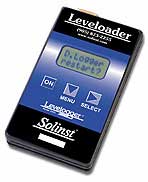 December 2002
NEW Leveloader - Data Transfer Unit for Leveloggers
Introducing the NEW Leveloader from Solinst, which downloads data from any model Levelogger, for transport back to the office, then transfer to a PC. The 4-1/8" x 2-3/8" hand-held device makes data collection easier than ever. No need for expensive computers, hand-held PCs or PDAs. The Leveloader holds 190,000 samples from up to 50 Leveloggers. An LCD display and 3 control buttons allow viewing of the latest Levelogger readings, the memory remaining in the Levelogger and memory in the Leveloader itself. It can also restart the Leveloggers, using the same settings as before, without need of a computer.
January 4, 2002
Golder Associates Ltd. with Solinst Equipment won Contract to Supply Dataloggers and Cellular Telemetry Systems to the Ontario Provincial Groundwater Monitoring Network (PGMN)
In response to a public tender held in late 2000, a proposal from Golder Associates Ltd. resulted in a 3 year contract being awarded in January 2001. The Ontario Ministry of the Environment required Water Well Monitoring and Telemetry Equipment, Installation Services and a Central Data Management System, to be part of the establishment of a Provincial Groundwater Monitoring Network (PGMN).
Under the contract Solinst is supplying the Water Well Monitoring and Telemetry Equipment along with training and technical support for the equipment. Golder Associates are managers of the project, installing the equipment and are supplying the Central Data Management System.
The contract calls for the supply of up to 380 Remote Telemetry Units, utilizing Leveloggers and Barologgers to measure water level, temperature and barometric pressure. These units are being installed for 38 Conservation Authorities across the Province of Ontario, Canada.
As of December 31 2001, 73 Solinst Telemetry Units, 103 Leveloggers and 14 Barologgers are installed and operating. The Central Data Management System has been operating in pilot mode for 9 months.