November 13, 2007
Solinst is proud to announce the newest addition to the Solinst Levelogger Family. The Levelogger Junior provides an affordable alternative for water level measurement. Like the Levelogger Gold, it combines a data logger, temperature sensor, and pressure transducer in a compact, waterproof, stainless steel housing.
With the quality expected from Solinst, the maintenance free design features a 5 year battery, memory of 32,000 data points, accuracy of 0.1% FS, and 1 year warranty. Compatible with Levelogger Gold Series software and accessories, it is able to integrate into a Solinst Telemetry System or SDI-12 network. If you require more accuracy and features for your application, the reliable Levelogger Gold is always available.
Designed to reduce your bottom line, the Levelogger Junior is economical and ideal for your water level monitoring needs. more >>

November 7, 2007
ON THE LEVEL
Water Monitoring News and Updates
The Fall 2007 edition of our newsletter is now available. It features case studies, product updates and releases, and helpful tips for clients. more >>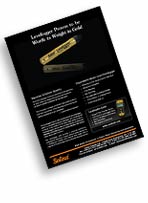 November 7, 2007
NEW Levelogger Gold Campaign Launched:
With the title, the "Levelogger Proven to be Worth its Weight in Gold" and its impressively sleek looking design, it is sure to turn heads. The main point of this new campaign revolves around showcasing the quality of the Levelogger Gold. Everything about this campaign represents quality and it should. The Levelogger Gold is a quality product that we are proud of. Our customers are happy with its performance, its backwards compatibility and overall, its reliability in the field. The caption in the ad says it all.
"Our mandate is to design and deliver high quality products, and back it up with our 3 Year Warranty, demonstrating the Solinst commitment to our customers."
- Sarah Belshaw, President.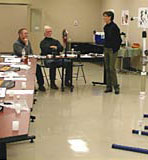 October 25, 2007
Certified CMT Training
Solinst offered comprehensive Certified Installer Training for CMT Multilevel Well Systems at our facility on October 25. Six companies were in attendance, all were local Ontario drilling contractors. The training took place over half the day and included instruction and a hands-on session. All attendees received an information binder, samples of the tubing and port, and a certificate. All are listed as certified installers on our website, enabling clients to contact them directly. It was great to see such interest from so many companies in our area. Thank you to all who participated.

May 29, 2007
NEW Peristaltic Pump Released!
The NEW Solinst Peristaltic Pump is compact and lightweight, ideal for field use, sampling from shallow wells and surface water, or vapor sampling. The variable speed, reversible pump has alligator clips for use with a 12V DC battery. It has one simple control to give flow rates as low as 40 ml/min and up to 3.5 L/min. more >>

May 11, 2007
International Agents Training
Another successful training session was held on May 10 and 11, where 9 of our International Agents came from all over the world to learn about Solinst products. At Solinst, we take pride in providing top notch customer service both directly and through our Agents who represent our product line internationally. Thank you to everyone who could attend the Spring training session, it was very worthwhile.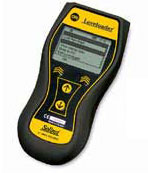 February 5, 2007
NEW Leveloader Gold
Rugged Data Transfer Device
NEW rugged Leveloader Gold is a field ready, water resistant handheld built for the new Levelogger Gold! New Real Time View feature is ideal for viewing live water level and temperature data at pump tests. The Leveloader Gold uses the new popular Levelogger Settings File Integration. This allows you to setup Levelogger sampling schedules at the office and upload them to the Leveloader Gold, which can hold up to 10 preset files at a time. This saves setup time and ensures that site wide investigations are using similar sampling schedules if required. These files can be changed and replaced at any time and can be distributed by email to field technicians. The increased memory capacity, longer battery life (uses 9V alkaline or lithium), larger LCD screen, and ergonomic design all make the new Leveloader Gold a more attractive and usable field device than our previous models. Connections for USB, RS232, optical and direct read interface cables. more >>