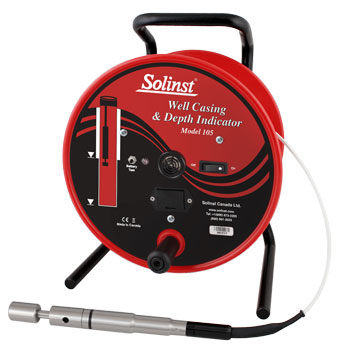 2 Useful Functions in 1 Probe!
Magnetic assembly for detecting metal well casing
Ground detector for measuring total well depth
Probe is submersible to 500 m (1650 ft)
Measurements read from durable laser marked flat tape
Standard tape lengths to 600 m (2000 ft)
Replacement tapes interchangeable with other Meters
Robust field instrument with 3 year warranty

The Solinst Model 105 Well Casing & Depth Indicator detects metal well casing and measures total well depth using one probe. The Well Casing and Depth Indicator is ideal for determining where metal casing ends and starts in new or existing constructions, useful when installing downhole instrumentation, and simple to use when measuring well depths. A strong magnetic assembly in the probe detects well casing, while a plunger assembly at the bottom of the probe signals well depth.
Made durable for the field, the 105 Well Casing & Depth Indicator is a must-have tool for every driller and hydrogeologist!
Convenient Uses for the Well Casing & Depth Indicator
Measuring total well depth
Groundwater well installation
Detecting cracks in well casing
Installing telescoping well screen
Packer and downhole instrument installation
Hydrofracturing
Confirming existing well construction
Decommissioning abandoned wells

The 101 Power Winder provides both convenience and ease of use for all Solinst reel-mounted devices. It is lightweight and easy to attach to small, medium or large size Solinst reels, and is simple to adjust to fit other reels in the market. Effortlessly wind longer tape lengths.
(Image shows 101 Power Winder Installed on Solinst Model 105 Well Casing and Depth Indicator)
Rugged & Simple Tag Line

The 103 Tag Line uses a weight attached to laser marked cable or tape, mounted on a sturdy reel. It is convenient for measuring depths during monitoring well construction. The weight clips off, so the cable can also be used as a support line.
Model 101 P7 Water Level Meter
The 101 P7 Water Level Meter detects static water level and has a submersible probe (to 300 m or 1000 ft) that can be used to measure total well depth. Available with durable Solinst laser marked flat tape in lengths up to 1500 m (5000 ft).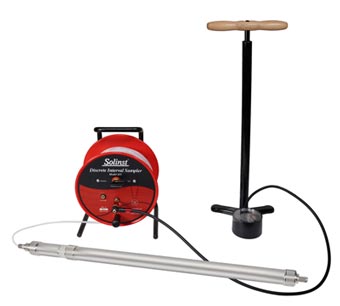 The Model 425-D Deep Sampling Discrete Interval Sampler obtains water or product samples from a specific zone without the need for purging. The sealed sampler is pressurized at depth allowing sample to enter. It is vented and sealed before retrieval to surface, maintaining sample integrity.