Laser Marked Flat Tape Interface Meter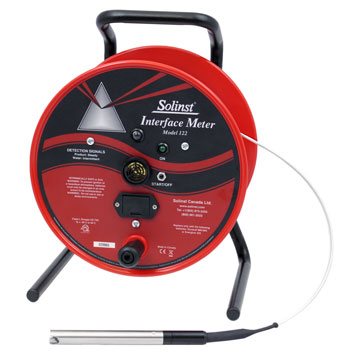 Durable and easy to decontaminate
Narrow 16 mm (5/8") diameter probe
Sturdy free-standing reel with carrying handle
Accurately laser marked each mm or every 1/100 ft
Lengths to 300 m or 1000 ft
Markings certified traceable to national standards
CSA certified intrinsically safe for hazardous locations
CE Standards & ATEX certified

Solinst Model 122 Interface Meters are easy-to-use and give reliable, accurate measurements. A steady tone and light indicate LNAPL or DNAPL. Intermittent signals indicate water. Solinst laser marked flat-tape is available in lengths up to 300 m or 1000 ft. The Flat Tape is durable and easy to decontaminate.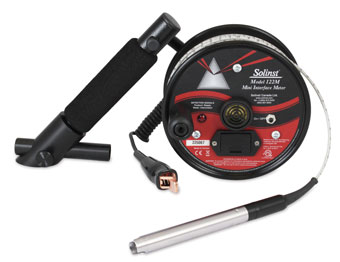 The Mini 122 Interface Meter holds 25 m or 80 ft of laser marked cable on a convenient small reel. It offers long battery life with only one standard 9V battery, giving 300 hours or more of normal use before the battery needs changing.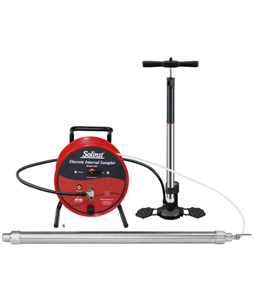 No purge (passive) sampling
Sample from specific depths
Obtain representative samples from below oil layers
Enhance Bioremediation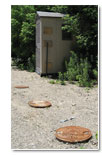 With the aid of 14 Waterloo Emitters, the site of a former gas station was remediated within 6 months of their installation. The Emitters diffused oxygen into the groundwater, to enhance aerobic bioremediation of BTEX and petroleum hydrocarbons.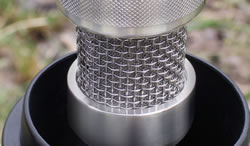 Double Valve Pumps
Double Valve Pumps are positive displacement gas drive pumps that provide high and low flow groundwater sampling, without the use of a bladder. Representative groundwater samples are produced, ideal when sampling for VOCs and PFAS.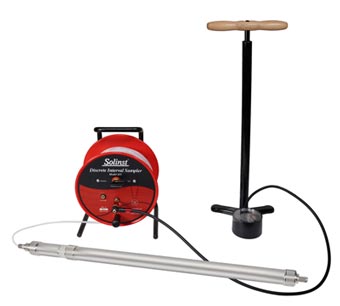 Sample Product Layers as Deep as 1200 m (4000 ft)
The Model 425-D Deep Sampling Discrete Interval Sampler obtains water or product samples from a specific zone without the need for purging. The sealed sampler is pressurized at depth allowing sample to enter. It is vented and sealed before retrieval to surface, maintaining sample integrity.