Why the Solinst LevelVent 5 is a Great Choice:
Vented version of our popular Levelogger®
Accurate (0.05%FS) water level data
10 year battery based on 1 reading per minute
No desiccants to replace
Solinst 3 year warranty
Extremely durable vented cable
(up to 500ft length)
Custom blowout fitting for easy vented cable maintenance
Complete compatibility with Levelogger accessories and Solinst telemetry systems
The LevelVent 5 is designed to provide instantly accurate water level data, without the need for barometric compensation. If you need true water level data right on site, without running any data compensation routines, the LevelVent 5 is the right choice for your water level monitoring application.
Where to Use the LevelVent 5:
Ideal for deployments to 500 ft, with up to 65 ft submergence
Excellent for aquifer characterization: pumping tests, slug tests, and more
Stream gauging, lake monitoring, reservoir and dam management installations
Watershed, drainage basin and groundwater recharge monitoring
Gauged water level sensor is suited to stormwater event and runoff monitoring where rapid readings are typically required
Water supply and tank level measurement
Long-term water level monitoring in wells and surface water
The Solinst Readout Unit (SRU) is a rugged, handheld device designed to connect to a deployed Solinst datalogger and display instant water level readings – with the option of automatic barometric compensation. Real-time logging and downloaded data can be saved and transferred to a PC. Quickly check the datalogger's status.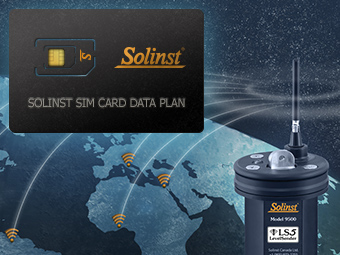 Already own Leveloggers? Quickly and easily upgrade your monitoring wells with LevelSender Telemetry. The 4G LevelSender 5 telemetry system features an optional Solinst SIM card. It is set up for you in advance—with a low-cost plan managed by Solinst! An internal barometer provides automatically compensated water level readings; set high/low level alarms.

The 615ML Multilevel Drive-Point System allows monitoring of up to 6 zones in one drive, using ports with a dual barb stem to attach either ¼" or ⅜" OD tubing. Install using extensions and a Manual Slide Hammer, similar to standard 615 installations, for high-resolution vertical groundwater or soil gas profiling.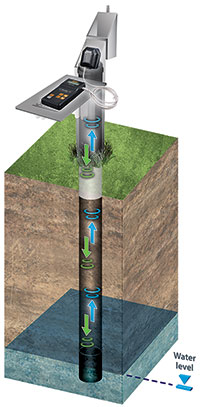 The 104 Solinst Sonic Water Level Meter is a portable, acoustic ranging instrument designed to simply and quickly provide depth to static water level measurements down to 600 m (2000 ft), without the need to lower equipment down a well. Ideal for straight, crooked, narrow, hard to access, or contaminated wells.