Solinst Levelogger App for Android™
The Solinst Levelogger App is designed to communicate with Solinst dataloggers via the Bluetooth® enabled Levelogger 5 App Interface. The app is available as a free download on Google Play™ for your smart device running the Android operating system.
To connect your dataloggers to the app, use the Levelogger 5 App Interface—a simple, portable device that connects to the top of your Levelogger's Direct Read Cable or Adaptor, LevelVent 5 Wellhead, or AquaVent 5 Wellhead Connector Cable. Your Android smart device pairs with the Levelogger 5 App Interface using short-range Bluetooth wireless technology, allowing communication with your datalogger.
Increased Productivity and Efficiency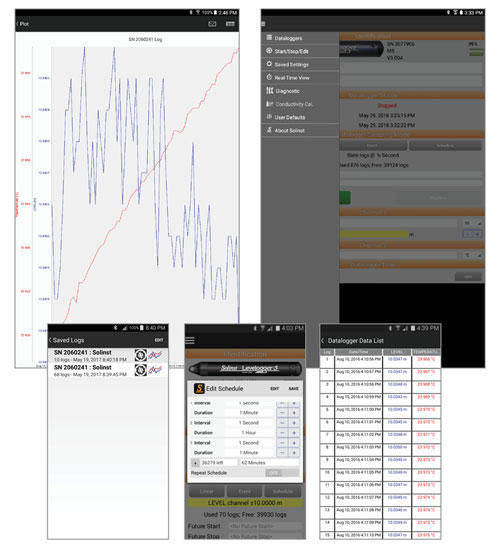 The Solinst Levelogger App is well organized and very intuitive, making it easy to use. The app provides all major programming options available with the Solinst Levelogger PC Software, but without the need to bring a laptop to the field. Settings include very convenient scheduled sampling and future start options.
With a datalogger connected, the Solinst Levelogger App will provide information about the datalogger's status, battery level, serial number, and location. You can save up to 10 program settings that can be applied to Leveloggers. This can help keep Levelogger sampling regimes consistent across a project.
The app allows you to check real-time readings from the connected datalogger, as well as view logged readings in a graph or database format. The data can be downloaded to your smart device, or shared immediately via e-mail. Data files can also be exported later to your office computer, and compensated using the Data Wizard in the Levelogger PC Software.
You can also perform a Levelogger 5 LTC conductivity calibration, and obtain diagnostic information from a connected datalogger using the Solinst Levelogger App.
Advantages of the Solinst Levelogger App
Communicate with dataloggers via Bluetooth technology
Employ the smart technology that you are already using
Eliminate the need to bring a laptop to the field
Program and start dataloggers right in the field
Simplify data management in the field
View real-time readings, or download and e-mail logged data files

Tested on the following devices:
Samsung S9 - Model SM-G960W
Google Pixel 3 - Model G013A
Android and Google Play are trademarks of Google Inc. The Android robot is reproduced or modified from work created and shared bvy Google and used according to terms described in the Creative Commons 3.0 Attribution License.
The Bluetooth® word mark and logos are registered trademarks owned by Bluetooth SIG, Inc. and any use of such marks by Solinst Canada Ltd. is under license.