Selecting New opens the Network Setup window. It will also open when the software first starts. Choose to set up an STS Edge Telemetry System Site, RRL Remote Radio Link Network, or STS Gold Site (see separate User Guides for RRL Networks and STS Gold Sites).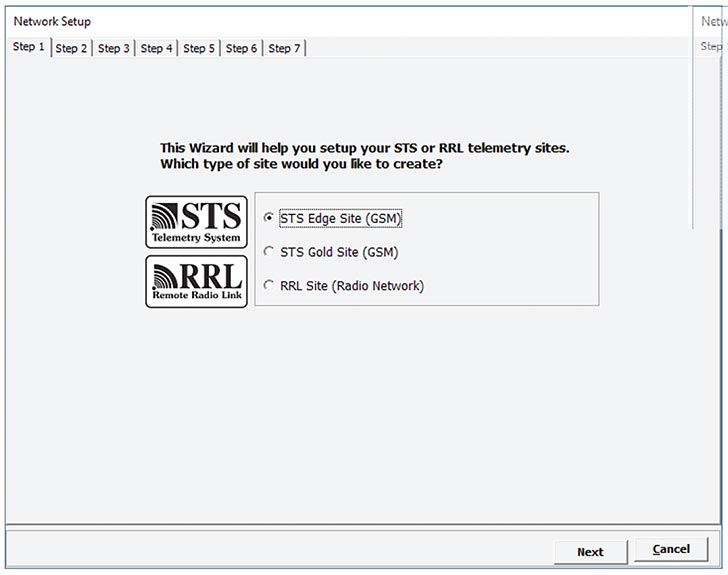 Figure 4-2 Network Setup Window
Selecting an STS Edge Site opens the STS Edge Information window.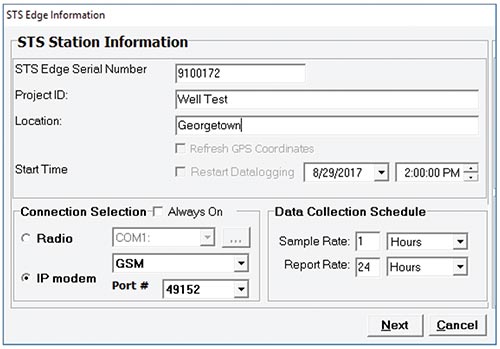 Figure 4-3 STS Edge Information Window
In the STS Station Information section, enter the Serial Number of the STS (located on its side), the unique name you choose to identify the site (Project ID), and the Location of the site. Set a start date and time to begin data collection.
Project ID: input your own identification system.
Location: input specific site / location information.
Refresh GPS Coordinates: select this option to get the location of the Remote STS Station. GPS must be enabled using the STS Field Utility in order to get the location (see Section 4.8.1) when "Map" is selected in the Administrator window.
In the Connection Selection section, you will select IP modem as your communication method, and GSM (LTE). Select the Port number you are using for IP communication. Port #49200 is recommended for PCs using Windows 10.
Program your Data Collection Schedule. A Sample Rate and Report Rate are selected.
Sample Rate is the rate the STS collects a real-time reading from the attached dataloggers. Sample Rate can be set from 10 seconds to 99 hours.
Report Rate is the rate at which stored data is sent from the STS to the Home Station computer. With each report to the Home Station, the Remote Station time and Home Station time are synchronized, and battery and signal strength at the Remote Station is sent along with the data collected from the dataloggers. The STS will also check for any site updates (Edits) made at the Home Station. Report Rate can be set from 5 minutes to 1 week.
If you select a Sample Rate less than 15 minutes and a Report Rate less than 30 minutes, your system will default to "Always On". You can also choose to set your system in this mode. This mode ensures the Remote Station is continuously running and the modem and STS are ready to collect and send data.
If connecting an RRL Network to your STS, you must select the STS to be "Always On". See Section 4.6 for more information on bridging an RRL Network.
"Always On" means you will be using Remote Station power continuously. Ensure you have sufficient power supply. See Section 7.2.
With less frequent Sample and Report Rates, you do not need to check "Always On". The Remote Station will be idle between data sampling and reporting to conserve battery power. More frequent Sample and Report Rates do not allow sufficient time for the modem to shut down and "wake-up" between data collection and send events.
If connecting an RRL Network to your STS, you must select the STS to be "Always On". See Section 4.6 for more information on bridging an RRL Network.
After all STS Edge Information is entered, select Next to open the Datalogger Setup window.