LevelVent Water Level Datalogger
Level Sensor:
Piezoresistive Silicon with Hastelloy Sensor
Accuracy:
± 0.05% FS Typical
Stability of Readings:
Superior, low noise
Resolution:
0.001% FS to 0.0006% FS
Units of Measure:
m, cm, ft., psi, kPa, bar, ºC, ºF
Normalization:
Automatic Temperature Compensation
Temp. Comp. Range:
0º to 50ºC
Temperature Sensor:
Platinum Resistance Temperature Detector (RTD)
Operating Temperature:
-20ºC to 80ºC
Temp. Sensor Accuracy:
± 0.05ºC
Temp. Sensor Resolution:
0.003°C
Battery Life Estimate:
10 Years — based on 1 reading/minute
Clock Accuracy:
± 1 minute/year (-20ºC to 80ºC)
Maximum # Readings:
40,000 sets of readings in non-volatile FRAM memory (up to 120,000 in compressed mode)
Memory:
Slate and Continuous
Communication:
9600 bps Solinst USB
Size:
7/8" x 7" (22 mm x 178 mm)
Weight:
4.6 oz. (129 grams)
Wetted Materials:
Delrin®, Viton®, 316L stainless steel, Hastelloy
Sampling Modes:
Linear, Event & User-Selectable with Repeat Mode, Future Start, Future Stop, Real-Time View
Measurement Rates:
1/8 sec to 99 hrs
Barometric Compensation:
Automatic

| Models | Full Scale (FS) | Accuracy | Resolution |
| --- | --- | --- | --- |
| M5 | 5 m (16.4 ft) | ± 0.3 cm (0.010 ft) | 0.001% FS |
| M10 | 10 m (32.8 ft) | ± 0.5 cm (0.016 ft) | 0.0006% FS |
| M20 | 20 m (65.6 ft) | ± 1 cm (0.032 ft) | 0.0006% FS |
LevelVent Wellhead
Materials:
Black Delrin, 316 Stainless Steel, Viton
Dimensions:
1.2" x 3.0" (30 mm x 76 mm)
Operating Temperature:
-20ºC to 80ºC
IP Rating:
IP 64 (dust and splash proof)
LevelVent Vented Cable Options
LevelVent vented cable assemblies are available in custom lengths of up to 500 feet.
Vented cables contain communication wires, as well as a vent tube running the length of the cable. Vented cables provide direct read communication from the LevelVent logger to the wellhead. The vent tube and wires are jacketed in polyurethane, providing durability and protection.
The vented cables ar e easily and securely connected to the LevelVent logger and wellhead, using stainless steel twist connections. A 2" Well Cap Assembly and hanger bracket are included to support the wellhead and vented cable when deployed.
LevelVent Vented Cable
Wetted Materials:
Polyurethane, 316 stainless steel, Viton
Diameter:
Cable: 0.32" (8 mm), Connectors: 0.86" (22 mm)
Lengths:
1 to 500 ft
Max. Bend Radius:
1" (25 mm)
Operating Temperature:
-20ºC to 80ºC
Solinst Levelogger App & Levelogger App Interface
The Levelogger App Interface uses Bluetooth® technology to connect your LevelVent to your smart device. With the Solinst Levelogger App, you can download data, view real-time data, and program your dataloggers. (see Model 3001 Levelogger App & Interface data sheets).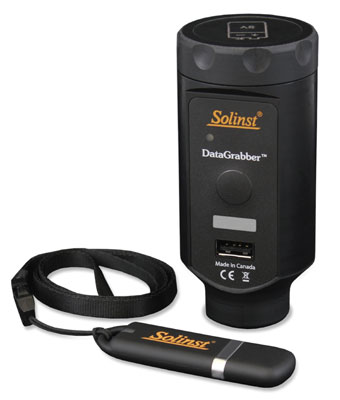 DataGrabber™
The DataGrabber is a field-ready data transfer device that allows you to copy data from a LevelVent onto a USB flash drive key, with one push-button. The DataGrabber is compact and very easy to transport.
®The Apple logo is a trademarks of Apple Inc., registered in the U.S. and other countries. App Store is a service mark of Apple Inc. Google Play is a trademark of Google Inc.
The Bluetooth® word mark and logos are registered trademarks owned by Bluetooth SIG, Inc. and any use of such marks by Solinst Canada Ltd. is under license.
®Delrin and Viton are registered trademarks of DuPont Corp.
™DataGrabber is a trademark of Solinst Canada Ltd.