LevelVent 5 Logger Specifications
Level Sensor:
Piezoresistive Silicon with Hastelloy Sensor
Accuracy:
± 0.05% FS Typical
Stability of Readings:
Superior, low noise
Resolution:
0.001% FS to 0.0006% FS
Units of Measure:
m, cm, ft., psi, kPa, bar, ºC, ºF
Normalization:
Automatic Temperature Compensation
Temp. Comp. Range:
0º to 50ºC
Temperature Sensor:
Platinum Resistance Temperature Detector (RTD)
Operating Temperature:
-20ºC to 80ºC
Temp. Sensor Accuracy:
± 0.05ºC
Temp. Sensor Resolution:
0.003°C
Battery Life Estimate:
10 Years — based on 1 reading/minute
Clock Accuracy (typical):
± 1 minute/year (-20ºC to 80ºC)
Maximum # Readings:
150,000 sets of readings
Memory:
Slate and Continuous
Communication:
9600 bps Solinst USB
Size:
22 mm x 173 mm (7/8" x 6.8")
Weight:
190 grams (6.7 oz)
Corrosion Resistance:
Baked-on coating using polymerization
technology (inside and out)
Wetted Materials:
Delrin®, Viton®, Polyurethane (TPU boot) 316L stainless steel, Hastelloy, PFAS-free PTFE coating
Sampling Modes:
Linear, Event & User-Selectable with Repeat Mode, Future Start, Future Stop, Real-Time View
Measurement Rates:
1/8 sec to 99 hrs
Barometric Compensation:
Automatic

| Models | Full Scale (FS) | Accuracy | Resolution |
| --- | --- | --- | --- |
| M5 | 5 m (16.4 ft) | ± 0.3 cm (0.010 ft) | 0.001% FS |
| M10 | 10 m (32.8 ft) | ± 0.5 cm (0.016 ft) | 0.0006% FS |
| M20 | 20 m (65.6 ft) | ± 1 cm (0.032 ft) | 0.0006% FS |
LevelVent 5 Wellhead
Materials:
Black Delrin, 316 Stainless Steel, Viton
Dimensions:
30 mm x 76 mm (1.2" x 3.0")
Operating Temperature:
-20ºC to 80ºC
IP Rating:
IP 64 (dust and splash proof)
Telemetry Applications
Integrate the LevelVent 5 with Solinst Telemetry Systems, which use the latest wireless technologies.
LevelVent 5 Vented Cable Options
LevelVent 5 vented cable assemblies are available in custom lengths of up to 500 feet.
Vented cables contain communication wires, as well as a vent tube running the length of the cable. Vented cables provide direct read communication from the LevelVent 5 logger to the wellhead. The vent tube and wires are jacketed in polyurethane, providing durability and protection.
The vented cables are easily and securely connected to the LevelVent 5 logger and wellhead, using twist connections. A 2" Well Cap Assembly and hanger bracket are included to support the wellhead and vented cable when deployed.
LevelVent 5 Vented Cable
Wetted Materials:
Polyurethane, Nickel plated Brass, Viton
Diameter:
Cable: 8 mm (0.32"), Connectors: 20 mm (0.79")
Lengths:
1 to 500 ft
Max. Bend Radius:
25 mm (1")
Operating Temperature:
-20ºC to 80ºC
Solinst Levelogger App & Levelogger 5 App Interface
The Levelogger 5 App Interface uses Bluetooth® technology to connect your LevelVent 5 to your smart device. With the Solinst Levelogger App, you can download data, view real-time data, and program your dataloggers (see Model 3001 Levelogger 5 App Interface data sheets).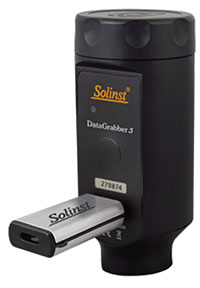 DataGrabber 5
The DataGrabber 5 is a field-ready data transfer device that allows you to copy data from a LevelVent 5 onto a USB flash drive key, with one push-button. The DataGrabber 5 is compact and very easy to transport.
®The Apple logo is a trademarks of Apple Inc., registered in the U.S. and other countries. App Store is a service mark of Apple Inc. Google Play is a trademark of Google Inc.
The Bluetooth® word mark and logos are registered trademarks owned by Bluetooth SIG, Inc. and any use of such marks by Solinst Canada Ltd. is under license.
®Delrin and Viton are registered trademarks of DuPont Corp.
™DataGrabber is a trademark of Solinst Canada Ltd.