Solinst 4G LevelSender 5 now includes Worldwide Cellular Connectivity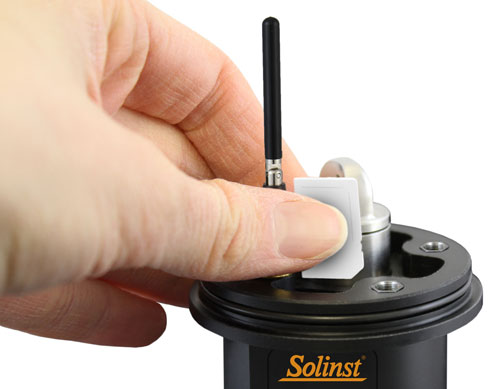 GEORGETOWN, ON – May 19, 2022 – Solinst Canada Ltd. is pleased to announce a partnership with CityKinect that enables global cellular connectivity to our Model 9500 4G LevelSender 5 Telemetry Systems. The LevelSender 5 offers a very simple and inexpensive means to collect water level data from remote Solinst dataloggers.
Solinst now offers the option of a CityKinect SIM card that is activated and preinstalled before shipping. This allows a low-cost, competitive data-only plan, managed and billed directly through Solinst. The LevelSender 5 is set up in advance, simplifying the programming and installation process, providing a plug and play solution for remote water level monitoring.
The SIM Card gives you access to wider network coverage, as it scans multiple service providers automatically selecting the strongest signal for your location. This allows you to avoid costs and frustrations with traditional single carrier providers, and not worry which network has better coverage where you deploy your LevelSender 5.
"Reducing the challenges of getting good sensor data has always been a priority at Solinst," said Jim Pianosi, President of Solinst. "Now with an integrated offering including global cellular connectivity, it's easier than ever before for customers to deploy and not worry about coverage at site. It just works."
The collaboration brings together high quality water level dataloggers with reliable and secure cellular technology to ensure customers have a world-class telemetry solution. Solinst is a high quality groundwater and surface water monitoring instrumentation manufacturer and CityKinect is a cellular connectivity provider focused on helping manufacturers integrate cellular into their offerings.
Shaun Connor, CEO of CityKinect, said "Solinst has been fantastic to work with, and really understands their customers' needs. By taking this step together we are enthusiastic about growing both companies in the Environmental Monitoring space".
For more information on the LevelSender 5 4G with SIM Card, visit: https://www.solinst.com/products/dataloggers-and-telemetry/solinst-telemetry-systems/9500-levelsender/levelsender.php
About Solinst Canada Ltd.
Solinst Canada Ltd. has been manufacturing high quality groundwater instrumentation since 1980 when company president Doug Belshaw recognized the need for innovative and easy-to-use instrumentation for the growing hydrogeology field. Now, in business for over 40 years, Solinst is dedicated to providing clients worldwide with high quality groundwater and surface water monitoring instrumentation.
About CityKinect
CityKinect is a technology-agnostic, MVNO helping companies integrate cellular and other LPWAN technologies into their manufacturing design, process, and implementation methods. Their experience in environmental monitoring is deep, and in this respect they are uniquely positioned to assist this market with remote data collection unlike most, and certainly including the major North American telcos.